Believe. Compete. Succeed.
Inside Monmouth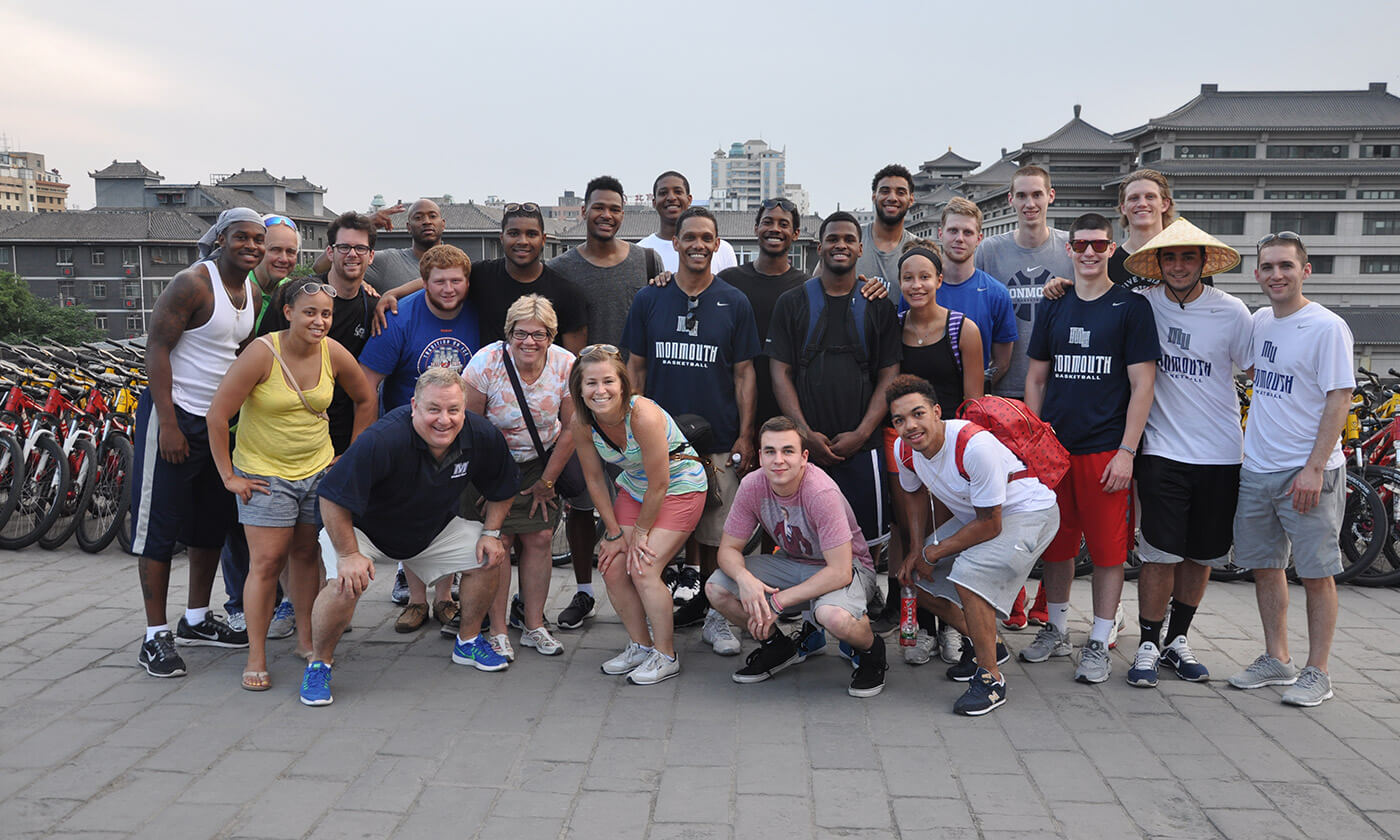 Believe. Compete. Succeed.
The men's basketball team builds connections on and off the court and highlights of how student-athletes shine in the local community.
What's Mandarin for Jump Shot?
According to Sporting News, foreign trips present a huge advantage for college basketball teams. A random sample of 27 teams that took international tours between 2006 and 2010 shows that they won, on average, two more games than in the season preceding the trip. Often, it seems, the seeds for a special season are planted in a foreign land. (As Nicole Auerbach noted in a USA Today article on March 19, 2015)
The experts disagree on what causes this bump. Some say the extra 10 practices help the team fine tune their moves. Others say that a trip to a foreign country builds team unity and increases team spirit, especially among younger players. A third reason is that playing against new teams can increase experience and build confidence. It all adds up to an opportunity for the students to see a new part of the world, to learn to work together as a team off of the court and a chance to play a game that they love.
The Monmouth University Men's Basketball team was hoping to be another team to follow on this trend as they boarded a plane at Newark International Airport for Shanghai, China, on May 22, 2015, for a 13-day trip. The players, coaches and support staff were excited about the trip and anxious about the long flight to the other side of the globe. They couldn't wait to meet the people, try new food, see the sights and play ball.
The first few days of the Monmouth University Hawks' overseas trip were mostly dedicated to basketball. They had four games scheduled against professional teams, including two against the Shanghai Sharks, where former NBA center Yao Ming started his career and is currently team president. Although the rules in China are slightly different, being on the court was essentially the same for the Monmouth players as at home. The one major difference was that some of their opponents didn't speak English.
"Basketball is universal. It was an eye-opening experience to know that we might not be able to communicate directly, but on the court, we spoke the same language," said Greg Noack, Business Management '18. "And playing, and winning, against professional teams was a real confidence booster."
(continued below)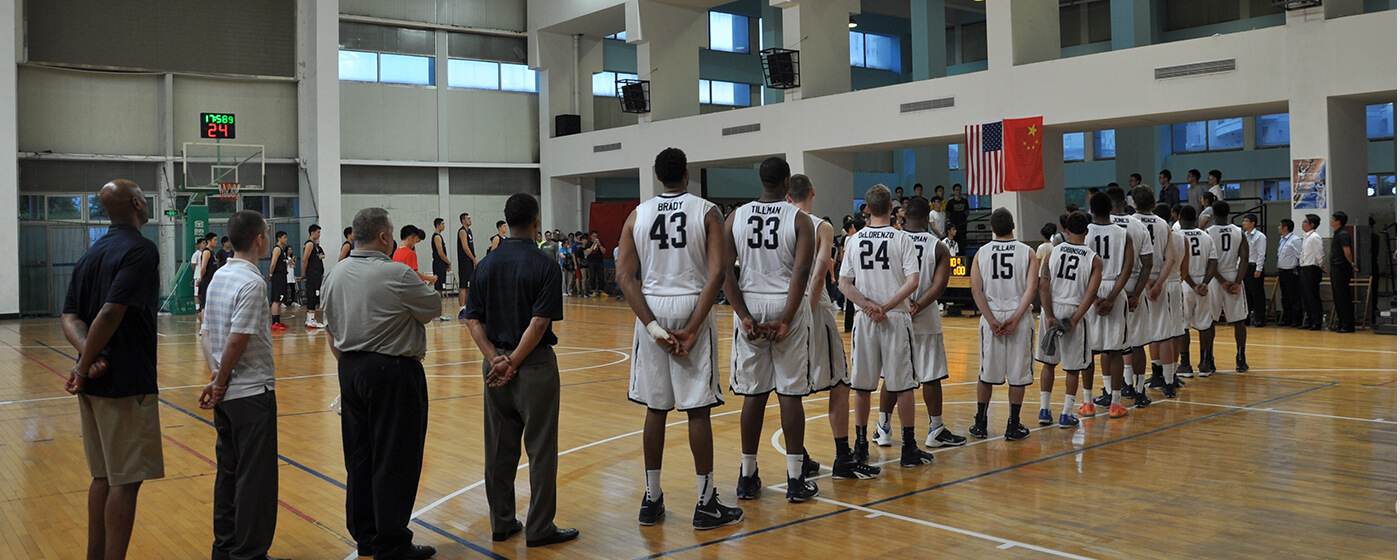 Off the court, the sites of China were captivating. The team toured Shanghai and took a high-speed train to Hefei. In Xi'an, they explored the Dayan Pagoda and visited the Terracotta Army, considered by some to be one of the greatest archeological sites in the world. In Beijing, they saw Tiananmen Square, the Forbidden City, and the Temple of Heaven before moving on to tour Hong Kong. One of the team favorites was the Great Wall.
"Growing up, I've seen it in textbooks and on the Internet, and then I had the opportunity to put both of my feet on the Great Wall, walk around and admire the surroundings—it was unbelievable," said Justin Robinson, Communications '17.
Noack enjoyed exploring China through the food, markets, and street venders. His best experiences were spent talking to the locals, because they were just as eager to learn from him as he was from them.
Robinson tried to sum it all up. "It's definitely an experience I'll never forget. I grew even closer with my teammates. We learned about a whole new culture. We got to try new foods. The trip was phenomenal," he said.
Most college athletes do not have time to study abroad due to demanding schedules. A trip like this is an exceptional opportunity. Travelling together to a foreign country is a chance for the team to grow closer and to work together away from the basketball court. The guidance of Head Coach King Rice and his staff is one of the things that makes being on this team special.
"We're extremely grateful to Dr. McNeil (Director of Athletics) for arranging the trip, and to the coaches for supporting us," said Noack.
"Being on the team offers companionship and brotherhood. We are all very close; it's a great experience to be around them every day," said Robinson. "All of the athletes, we all know each other, we all support each other. I don't know if other schools have this, but at Monmouth, we're so tight-knit."
Novak said that this experience has changed him. As a player, he says he has gained more experience by playing in a new place. He also says that he has learned to see the world in a new way. Robinson says he is relating to his classmates differently because of his experience.
"I've changed the way that I converse with people. When you're abroad, you don't really know people, so you just say hello," said Robinson. "They're excited to see you, you're excited to see them, it just makes you be a better person."
Explore more
Inside Monmouth