A Commitment to Human Rights and Social Justice
Inside Monmouth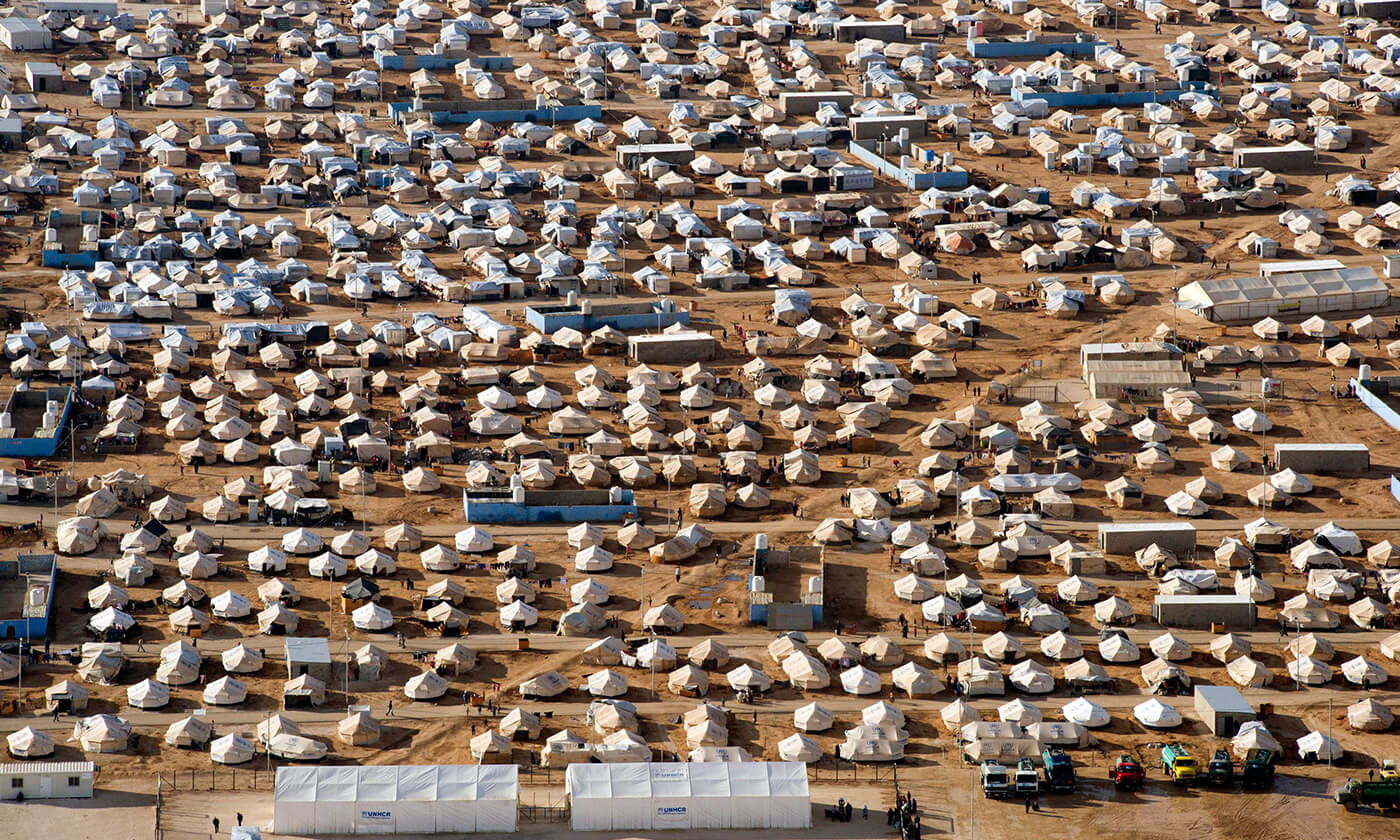 A Commitment to Human Rights and Social Justice
A veteran answers a challenge to support the vulnerable, and examples of students working with children, communities, and governments to advance human rights for all.
Answering the Challenge of Social and Economic Justice
For Michael Callahan, a U.S. armed forces veteran and a 2015 Master of Social Work (M.S.W.) graduate, "social work answers the challenge of human rights and social justice in the complexity of the twenty-first century. We are "social working" when we help a family of refugees fleeing war to secure permanent housing in a place where their children will thrive. We do likewise when we work with the returning veteran from that same conflict to transform the horrors of war for that person into a fruitful and fulfilling life."
Callahan, a family and clinical practitioner who works as a refugee resettlement case manager for Catholic Charities in Camden, believes his work puts things into perspective. He has served twice in Iraq and has witnessed first-hand how war displaces ordinary people during extraordinary times. His experience as a soldier helped inspire him to pursue a career in social work and, particularly, to pursue that goal at Monmouth University.
"From day one, I was known as a person to the faculty," he said. "Class sizes are small and intimate, and there was always a feeling that the faculty wanted you to succeed in your goals."
The uniqueness and strength of Monmouth's undergraduate and graduate social work programs lies not only in its stated commitment to human rights and social justice, but in the dynamic and real efforts of graduates who actually practice social work from a rights-based, justice-based framework. According to Robin Mama, Ph.D., dean of the School of Social Work, the commitment to human rights and social justice infuses the every-day reality of what students bring to their careers, whether they are working with individuals, families, communities, or governments.
"This is a major undertaking, from the books and readings we assign in our courses to the way we treat each other, and in the way we relate to those in client status," said Dr. Mama. "The entire framework of the human rights and social justice philosophy is very simply why we do what we do."
Callahan said the bottom line in his work every day with each client is to ask himself, "is this person OK." He explained that he is responsible for the welfare of refugees from Burma, Iraq, Iran, Syria, and other countries deep in conflict. He knows that a part of social work is to record outcomes metrics that measure how well a client is progressing through the various social service systems.
"But for me, seeing a refugee as a person to whom severe injustice has been done, and my wanting to provide services for that person, their family, and their community that can be lifesaving, is related to how the principals of social work were communicated to me at Monmouth," he said.
Informed by the 1948 adoption by the United Nations of the Universal Declaration of Human Rights, which in its preamble and its 30 articles expresses the recognition and the respect for the rights and freedoms for all, Dr. Mama said her personal drive to bring the philosophy of the document into the social work curriculum began in an ordinary way that has, over the years, borne an extraordinary and lasting impact.
In 2004, Dr. Mama was awarded a scholarship to explore a topic in the humanities and decided to use the time and the funds to attend classes and seminars at the International Human Rights Academy in Utrecht in the Netherlands.
She said she came away from that experience with a deep understanding that human rights means dignity for all people and that social justice, at its root, means access and equality for all people. Dr. Mama realized that empowering Monmouth's social work students, both undergraduate and graduate, to think and act from a justice-based approach was the way forward.
"What is extraordinary about our programs is that we have a core of courses that explore the applications of human rights and social justice to social work practice," she said. "And that we do this across our clinical and macro (community, national, and international) concentrations is almost entirely unique in social work education."
(continued below)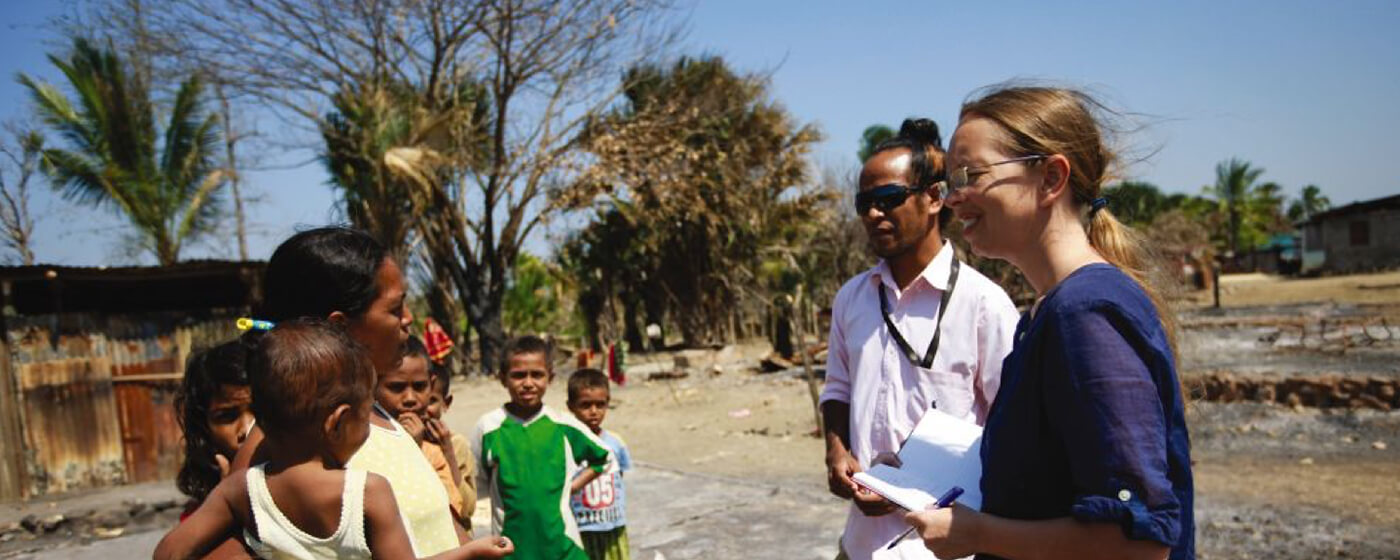 Monmouth's School of Social Work, which offers an undergraduate Bachelor of Social Work and a Master's of Social Work, ensures that its students engage in practice at all levels, from working with children to working with communities and governments. Because of its emphasis on social and economic justice, the program at Monmouth is particularly concerned with the representation and support of vulnerable or oppressed segments of the population, and direct action strategies to bring about positive change for the disenfranchised locally, nationally, and internationally.
For MSW graduate Lauren Rodriguez '15, being able to complete an internship abroad was a transformative experience. She was based for two months at the University for Peace in Costa Rica and during that time, she focused on that university's core of human rights and social justice curriculum.
"I was able to work directly with a faculty member on revising the content of an online course she teaches," Rodriguez said. "I reviewed the course materials and the syllabus with her and because of my own experience with Monmouth's human rights and social justice-based curriculum, made contributions to educational content that is offered globally."
Rodriguez is planning to use her social work qualification toward a career working abroad to find solutions for stopping the human trafficking trade. "The opportunity to have had an experience to travel abroad in the framework of my degree was so important," she said. "That opportunity confirmed that I do want to work outside of the United States on a social issue that has worldwide consequences."
Dr. Mama said, for her, the greatest result of the human rights and social justice curriculum is expressed by the ongoing efforts of students like Lauren Rodriguez who live their education by applying it wholly to the context in which they practice, either on the micro or the macro level.
Students who have completed the core courses that emphasize this deep application of the human rights and social-justice based philosophy are heard, according to Dr. Mama, saying, "we play differently." And, for Dr. Mama, that statement means students are embracing both how to express and how to live a point of view that helps bring into their practice an applicable, and beneficial, strengths-based professionalism that is grounded firmly where it needs to be—in humankind.
Explore more
Inside Monmouth