United Nations Academic Impact
Monmouth University, through the Institute for Global Understanding (IGU), is a member of the United Nations Academic Impact Initiative (UNAI). Consistent with its mission, IGU seeks to promote awareness of global issues by aligning projects with the UNAI principles.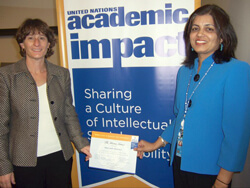 Through this partnership, IGU works through UNAI on a global initiative that aligns institutions of higher education with the United Nations in actively supporting ten universally accepted principles in the areas of human rights, literacy, sustainability, and conflict resolution. The goal is for participating universities to actively demonstrate support of at least one of those principles each year.
For the 2010-11 academic year, Monmouth's goal is to actively promote principles three and four, which are:
3. A commitment to educational opportunity for all people regardless of gender, race, religion, or ethnicity
4. A commitment to the opportunity for every interested individual to acquire the skills and knowledge necessary for the pursuit of higher education
Project BAM
Project BAM is a collaborative mentoring program among Big Brothers and Sisters of Monmouth and Middlesex Counties, Asbury Park High School, and the Institute for Global Understanding at Monmouth University that started in fall 2009. BAM is a year-long mentorship program pairing University students with local high school students. The program exposes the high school students to the opportunities available in higher education and helps build their skills and potential for pursuing higher education.
College Bound
College Bound is a partnership between the Boys & Girls Clubs of Monmouth County and the Institute for Global Understanding at Monmouth University. Monmouth University students and employees meet with local youth on an ongoing basis and provide them with information about preparing for university study. MU mentors also serve as role models; assist youth in setting academic, personal and career goals; serve as a resource to encourage youth to explore their options for higher education; and help youth navigate the college application process.
It Gets Better: Being Out at Work
Partnering with Wells Fargo, as well as Monmouth University's All Lifestyles Included, Student Activities, and the Sociology Club, the Institute for Global Understanding is highlighting the panel discussion "It Gets Better: Being Out at Work" as a fall event as part of their UNAI initiatives.
This discussion will take place on October 11, 2011 – National Coming Out Day – and features panelists from a variety of professions who have "come out" at work and are living productive and happy lives. Panelists include a political activist, an area sales manager from a large mortgage company, a high school guidance counselor, and a local attorney representing a pro-LGBT athlete.
This event contributes to the UNAI principle to make "a commitment to promoting inter-cultural dialogue and understanding, and the 'unlearning' of intolerance, through education."
Macheke Sustainability Project
The Institute for Global Understanding at Monmouth University is working with the Macheke Sustainability Project (MSP), a non-profit organization that is developing and implementing a collection of social business initiatives whose focus is to eradicate poverty in the village community of Macheke, Zimbabwe.
Macheke is a small farming community with about 8,300 people (est. 2006 census) that was formed during the colonial period because of its rich agricultural soils. Today there is a vital need for sustainable development in order to change this community from a state of poverty to one where it is thriving with dignity.
The project's holistic approach to development will aid the much-needed changes in health, agriculture, finance, education/IT, and renewable resources. The Macheke Sustainability Project is a University-wide research project and was a highlight of our 2010-2011 United Nations Academic Impact initiatives.
Education Discussion on Facebook:
The UN Department of Economic and Social Affairs is partnering with the UNAI initiative to host an e-discussion series on the theme of improving access to education. Students are encouraged to  share their views— on the level of education in their country, the disparity between the education received and the current needs of the job market, and other timely issues.
The outcome of the e-discussion will be reported back to the Economic and Social Council (ECOSOC) at its Global Preparatory Meeting on April 5, 2011, and policy recommendations will be included in the report of the UN Secretary-General, to be presented during the high-level segment of ECOSOC in July 2011.
UNAI member Monmouth University will act as rapporteur of the e-discussion series. Background on the initiative can be found here!
Monmouth Students Create Mon-Taj Experience
From Monmouth County New Jersey to the Taj Mahal in India, the Monmouth University "Mon-Taj" volunteers' group experience in Kolkata, tour of Dehli, Agra, and Jaipur, India ran from December 2010 into January 2011 and exposed students to the challenges of living in a developing country. !
For more information on UNAI at Monmouth University, please contact IGU Acting Director Dr. Saliba Sarsar at sarsar@monmouth.edu or call 732-571-4474.