United Nations Connections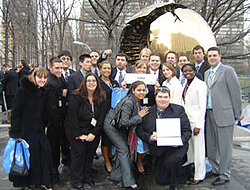 National Model UN Conference 2007
Winners of the Distinguished Delegation Award
The Institute for Global Understanding (IGU), formerly the Global Understanding Project, is committed to promoting the United Nations (UN) and carrying out the UN's mission by focusing on issues of human rights, equality, economic development, and peace through:
Taking annual trips to the United Nations.
Bringing Monmouth University students to UN events.
Participating in the Model UN: Since 2004, we have been sending student teams to the National Model UN, first through both a new course on Model UN and a Model UN Club.
Sponsoring UN Speakers on campus.
Holding UN events at Monmouth University, such as TXT4Peace campaign in which more than 50 MU community members sent text messages en masse from the campus.
Additional Links to the United Nations: