International Service Learning
Mon-Taj
Connecting the local and the global —
MU's "Mon-Taj" volunteer experience in India &
From Monmouth County New Jersey to the Taj Mahal in India, the Monmouth University "Mon-Taj" volunteers' group experience in Kolkata, tour of Dehli, Agra, and Jaipur, India ran from December 2010 into January 2011, and exposed students to the challenges of living in a developing country.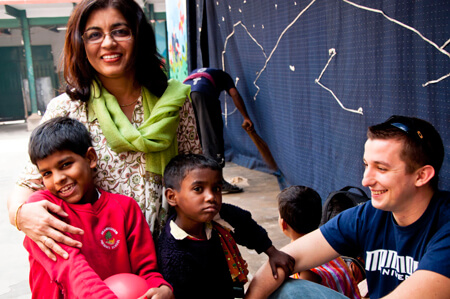 While abroad the students worked with rescued street children at the service learning site. The Monmouth contingent played with them, cared for them, tutored them, helped out in the school's community kitchen, and cleaned the school's premises.
The principal of the school is Sister Cyril Mooney, whose work is commended worldwide, and whose efforts were recently featured in coverage by PBS. See the video here!
Sister Cyril gave a two-hour presentation of her work and shared a video demonstration of the different projects that the school is engaged in, including teacher training, educating female children and dealing with domestic child labor, trafficking, and rescuing street children.
For more information on UNAI at Monmouth University, please contact IGU Founding Director, Dr. Rekha Datta at rdatta@monmouth.edu or call 732-923-4666.