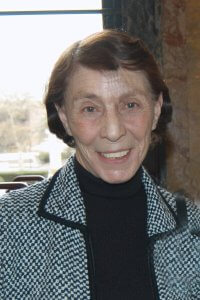 Jane M. Freed was a philanthropist and professional horsewoman, owning a stable of 22 horses which she bred and raced, producing a stakes winner from her own stock. Born in Washington, DC, she was a graduate of the Sidwell Friends School where she was named to the All-Washington Field Hockey Team. She attended Wellesley College for two years until her marriage and the birth of her children. She began to work in the field of community service while raising her children. She soon became president of The Settlement House, a recreational center for underprivileged children in the Washington, D.C. area. At the organization, Ms. Freed dedicated herself to arranging activities and events, as well as providing emotional support to needy youth. She was also an active volunteer for both the Girl Scouts of America and the Red Cross. She moved to Elberon, New Jersey in 1971 where she resumed her academic studies.
A summa cum laude graduate of Monmouth University, Ms. Freed became a driving force behind the creation of the Honors Program, now the Honors School at Monmouth. Along with founding professor, Dr. William Mitchell, Ms. Freed saw the need for a special honors program that would foster the intellectual abilities of Monmouth students. She provided generous financial support to the program for more than 25 years, establishing five Jane Freed Grants for Creativity in Honors Thesis Proposal, and numerous academic and athletic scholarships.
A former member of the Monmouth University Board of Visitors and the 2002 recipient of its Distinguished Alumni Award, she was also instrumental in endowing the Freed Foundation Professorship in Social Sciences. She served on the Educational and Faculty Affairs Committee of the Trustees for several years and was a supporter of the annual Scholarship Ball at Monmouth University. Ms. Freed was also a strong supporter of the women's Field Hockey program at Monmouth University, funding the Jane Miller Freed Athlete Scholarships for New Students, and the Jane Miller Freed Athlete Scholarships for Continuing Students, which allowed the Field Hockey team to grow and prosper.
She was much admired by students for many years, as an informal 'mom' to members of the Field Hockey team, and as a supporter of the Honors School where she collaborated on reviewing student honors theses for the honors journal, Crossroads, and where she participated in student receptions and events, serving as a mentor and role model. A strong believer in mens sana in corpore sano, a healthy mind in a healthy body, Jane made a generous gift in 2007 to construct a turf field, 'So Sweet a Cat' Field, for the Field Hockey team, named after her stakes-winning filly.
Ms. Freed was a volunteer research assistant and editor for years with Dr. Mitchell, working on his books about Peru and the Indians of Peru. Jane also did significant fieldwork at the Vanderbilt Great Camp Sagamore, in the Adirondacks, excavating artifacts that illustrate the opulent lifestyle of the Vanderbilt era. She also volunteered her time at Sagamore Museum, a national historic site, where she worked on the restoration of metal work, and also at the Adirondack Museum. In her excavations and restorations she utilized skills that she obtained as a leader at Monmouth field school at Turkey Swamp Park in Freehold, site of a Lenni Lenapi Village.
The Honors School remains ever grateful to Jane Freed, her daughter Elizabeth, and to her foundation for the vision, generosity, and lasting and profound impact these have had on the School.