Enhanced Learning
Honors students have flexibility in completing their Honors academic requirements through a combination of interdisciplinary Honors courses, exclusive Honors sections of regular courses, and individual learning contracts for Honors credit in other courses.
In the first year, Honors students fulfill some of their required general education courses in "clusters." Faculty from different disciplines collaborate to develop each cluster's common theme and design complementary course content, readings, writing assignments, and co-curricular activities.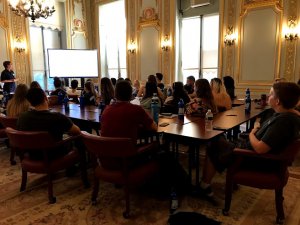 In the Honors School, students have the opportunity to conduct hands-on research projects with faculty, immerse themselves in other cultures through study-abroad opportunities, and participate in sophisticated extracurricular events including musical theater in New York City, the Philharmonic here in New Jersey, and other field trips in the surrounding New York/Philadelphia region.
On campus, Honors students benefit from visiting alumni and guest speakers to learn about their intellectual passions and build and strengthen professional networks.