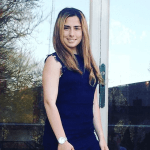 Class Of: 2019
Academic Major: Bachelor of Science in Health Studies
Academic Minor(s): Biology
My Goal: Has several …. please see profile
Meet Our Student
Rachel Belmont, class of 2019, a Health Studies major with a minor in Biology, has made the Dean's List every semester. She is an Honors School student and Eta Sigma Gamma Honor Society Member.
Rachel is a Finisher of the following races:
50-Mile North Face Endurance Challenge in Washington DC
Queens Marathon (2017)
Philly Marathon (2016)
Rock n' Roll D.C. Marathon (2016; PR 3:26)
NYC Marathon (2015)
Rachel individually raised $2,620 for Team for Kids while training for the 2015 NYC Marathon and was a 2017 Team for Kids Mentor for the NYC Marathon. Rachel is also a Running Guide for Achilles International, guiding blind and disabled athletes for a variety of races. Recently, she guided a disabled athlete for the Brooklyn 1/2 Marathon, and she plans on guiding a disabled athlete in the 2017 NYC Marathon.
Rachel has been published twice in Women's Running: "Could You Train For A 50-Miler While In College? This Woman Did" and "She Had Three Knee Surgeries And Still Banged Out A BQ Time". Her article, "The North Face Endurance Challenge Washington D.C. 50-Mile" appears in Ultra Running Magazine.
Goals
Become a physician assistant and specialize in orthopedic surgery or emergency medicine
Complete a marathon on all seven continents; next up – the Petra Desert Marathon in Jordan, September, 2018
Enthusiastically pursue an active lifestyle filled with adventure travel