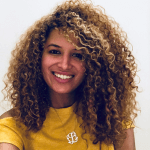 Class Of: 2018
Academic Major: Bachelor of Science in Health Studies
My Goal: Become a Physician Assistant
Meet Our Student
Leiry discovered her interest in health prevention and education, especially as it relates to working with minority communities. She began by developing a health education workshop for high school ESL students discussing male stereotypes and self-esteem and delivered the workshop in English and Spanish to over 80 students. This was the first project Leiry developed as a Monmouth student. Leiry said, "It was just the beginning. I've continued to put the tools I've acquired in Health Studies classes as I've worked on community-based projects."Leiry transferred to Monmouth University spring 2016 to acquire a bachelor's degree in Health Studies. Her academic accomplishments include Eta Sigma Gamma, Hawk talks, and Preconception Peer Educator training Leiry said, "Attending Monmouth has been the best decision I've made because it has enabled me to discover my strength and passion. The beauty of the campus, the enthusiasm of the professors and their ability to inspire students motivates me every day."
Her interest for different countries motivates her to take Health in Developing Countries (HE-375). As part of her "Taking Action" assignment, she raised awareness and funds that assisted two international programs supporting over 315 clients, which included three orphanages and two towns in the Dominican Republic. Leiry also developed a health education lesson in Spanish for the orphanages that include nutrition, hygiene, and self-esteem. Leiry confessed, "I never imagined one class or one project could impact me so much." Leiry enthusiastically shared the successful project during a moving "Hawk Talk" during Scholarship Week 2017.
Leiry traveled with Dr. Hirschler and eight other students to Guatemala during Spring Break 2017. The "Guatemala Public Health" (HE 376) class delivered health education to 20 women and 35 children at a domestic violence shelter in Xela, Guatemala. Leiry Developed and presented a self-esteem talk and activity and translated for the majority of the activities during the week. Leiry stated, "Bringing a smile to others is the best feeling one can have! Leiry will return to Guatemala in 2018 to act as a team leader.
In 2017, Leiry interned at Jersey Shore University Medical Center in the surgical oncology unit with Dr. Johnson-Miller and PA Parul Kadakia where she interacted with patients, physicians, physician assistants, and observed numerous surgeries.
Leiry has been the Office Manager for United Power & Construction where she prepares billing, payroll, tax reports, and insurance approvals. Leiry also assists costumers with design ideas by visiting galleries and former jobs, organizes workshops on safety procedures, and translates presentations for non-English speaking employees.