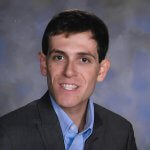 Class of: 2019
Academic Major: Bachelor of Science Health & Physical Education & Education K-12
My Goal: Become a Health and Physical Education Teacher in a K-12 school setting
Meet Our Student
Brad Comer is training to become a Health and Physical Education teacher.  In addition to his Health and Physical Education degree, Brad will graduate with a Teacher of Students with Disabilities endorsement. During the fall 2019 semester, he will complete his full-time student teaching at Ocean Township Intermediate School and Ramtown Elementary School in Howell.
Brad participates in various extracurricular activities at Monmouth University including Colleges Against Cancer (CAC) Club, Council of Exceptional Children (CEC) club and the Monmouth University School of Education (MUSOE) Dean's Undergraduate Advisory Council. As a member of the CAC club, Brad solicited sponsors and served as a volunteer at Monmouth University's Relay for Life event from 2017 – 2019. As a member of the CEC club, Brad has volunteered at The Shore Center for Students with Autism's annual holiday party since 2016. As a member of the MUSOE Dean's Undergraduate Advisory Council, Brad assisted at School of Education events for the incoming teacher candidates such as the Scavenger Hunt, Sophomore Connections Program and the Academic Welcome event.  Brad was also the first student to appear in the PE Central Featured Teacher of the Week spotlight.
Brad is an active member of the New Jersey Association of Health, Physical Education, Recreation, and Dance (NJAHPERD). He has attended the annual NJAHPERD convention since February 2016, presenting with Dr. Staci Drewson and other Monmouth University Health and Physical Education students in 2018. Brad also participated in the Physical Activity Afterschool Program (PAASP) service-learning class led by Dr. Drewson. There, he led, taught, and supervised physical activity for the 4th and 5th graders of Our Lady of Mount Carmel (OLMC). Brad presented his poster from the PAASP class during 2019 Scholarship Week. Brad believes that both NJAHPERD and PAASP prepared him to become an effective Health and Physical Education teacher.
HEPE faculty member Dr. Staci Drewson describes Brad as "an exceptional preservice teacher. He exhibits an exemplary professional disposition. He is eager to learn new content and apply best practices. As a NJAHPERD member, Brad actively attends professional development events and enthusiastically advocates for quality health and physical education."
Brad thanks his family, friends, teachers, guidance counselors, NJAHPERD and everyone else for their ongoing support.