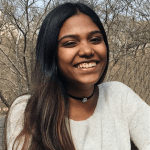 Year of Graduation: 2019
Degree: Bachelor of Science in Health Studies; minor in Biology
Current Academic Program: Medical school student at New York Institute of Technology College of Osteopathic Medicine (NYITCOM)
About our Alum
In Fall 2019, Sneha Bupathi will begin medical school at the New York Institute of Technology College of Osteopathic Medicine (NYITCOM). That same year, Sneha earned the Department of Health and Physical Education Leadership Award. She worked as a peer mentor in the Department of Health & Physical Education and the Honors School, worked on the FRUVED grant with professor Evans and Dr. Hirschler, was a research assistant in the department, contributed to the efforts of Colleges against Cancer's Relay for Life, partook in an internship at Monmouth Medical Center (Long Branch, New Jersey) and completed her honors thesis. During the 2017-2018 academic year, Sneha traveled to Guatemala as part of the Guatemala Public Health (HE 376) course to deliver health education.
Sneha said, "With guidance from accomplished educators, the accompaniment of high-achieving peers, as well as the ample opportunities provided by the Marjorie K. Unterberg School of Nursing and Health Studies, I have been further inspired to pursue a career in healthcare and medicine."
In the future, Sneha hopes to contribute to the medical field by providing care to the undeserved in developing countries through non-profit humanitarian organizations.