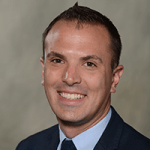 Year of Graduation: 2009
Degree Program: B.S., Health Studies
Current Job Title: Nurse Practitioner, Critical Care
Employer: California Pacific and University of California San Francisco Medical Centers
Location: San Francisco, CA
About Our Alum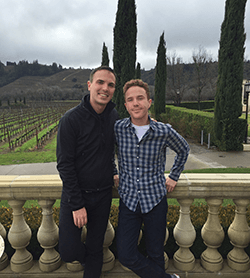 After attending Monmouth University from his hometown of Farmington, New Hampshire, Kristopher Jackson had the pleasure of being among one of the first graduates from the Health Studies program in May, 2009. Under the direction and advisement of his faculty mentors at Monmouth, he transitioned into a post-baccalaureate program and completed his Bachelor of Science in Nursing (B.S.N.) at Thomas Jefferson University in 2010.
Shadowing a Cardiology Nurse Practitioner at Medical Health Center (Middletown, NJ) helped Kristopher "to gain a better understanding of the roles and responsibilities of nurse practitioners especially in regard to patient interactions, critical thinking, and synthesis of exam data to garner an informed and efficient impression of patient's needs." Kristopher said, "It was this interaction that deepened my interest in nursing as a future profession and further shaped my decision to return to graduate school to become a nurse practitioner."
He began his career as a staff nurse within the University of Pennsylvania Health System and returned to graduate school part-time. It is this exposure to critical care and mentoring from the Pulmonary and Critical Care physicians at the Hospital of the University of Pennsylvania that continued to motivate Kristopher towards a career in critical care. He then joined the team of advanced practice providers in the Medical Intensive Care Unit (MICU) in August, 2013.
Since that time, Kristopher has moved to San Francisco, CA with his partner, a Bay area native. Kristopher presently works in the critical groups at both California Pacific Medical Center and The University of California San Francisco Medical Center. Last spring he was accepted to the Doctorate of Philosophy (Ph.D.) in nursing program at the University of New Mexico as Hearst Foundation Scholar. His research interests are centered around the role and practice variation among advanced practice providers in the ICU.
Dr. Andrea Hope said, "Kristopher was one of the first students I met and worked with at Monmouth University. He has a tremendous amount of energy and took on the monumental task of establishing our chapter of Eta Sigma Gamma, our health education honor society. I was appointed faculty advisor and had the benefit of working with Kris on that project. Kristopher was an absolute force! And, when he left Monmouth, he was greatly missed."