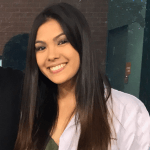 Year of Graduation: 2016
Degree Program: B.S., Health Studies and Physical Education
Current Job Title: Physical Therapist in private practice
Employer:  db Orthopedic Physical Therapy
Location: Manalapan, NJ
About Our Alum
In 2019, Dr. Deak graduated from Rutgers University School of Health Professions with doctorate in physical therapy, and passed the National Physical Therapy Examination (NPTE) or "boards". In 2016, Jessica graduated Summa Cum Laude from the Monmouth University Health and Physical Education and received the 2016 Marjorie K. Unterberg Health Leadership Award. She tells us her experience at Monmouth University truly shaped her into the person that she is today. Jessica says she was given so many resources during her time at Monmouth that allowed her to pursue a journey to becoming a Doctor of Physical Therapy. The professors, especially in the Health Studies/Health and Physical Education department "helped her find her individual path of success". She said, "I owe a lot of my successes to Monmouth for instilling confidence, drive, and ambition in me."
While at Monmouth, Jessica was involved in the Eta Sigma Gamma chapter at MU, and eventually became president during her senior year. She helped organize events such as CPR/AED training for students in the health major, developed a team to represent the department at Relay for Life, and created health promotion bulletin boards each month. Being a part of Eta Sigma Gamma helped her to develop leadership skills which are essential for the physical therapy field, according to Jessica. She also served as Reporter for the Alpha Epsilon Delta, Pre-Professional Health chapter, and was also a member of Omicron Delta Kappa.
After graduating from Monmouth University in May of 2016, Jessica enjoyed a short summer off before starting her next journey at Rutgers University, the School of Health Professions in the Doctor of Physical Therapy program. She completed clinical affiliations at the Parker Home in Highland Park, NJ, a skilled nursing facility, and three clinical rotations: db Orthopedics in Manalapan, NJ, Raritan Bay Medical Center in Perth Amboy, NJ, and St. Peter's Sports Medicine Institute in Somerset, NJ. Jessica has a strong interest in working with athletes in the future; however, she also enjoys working with elders. Jessica also conducted research at Rutgers studying the effects of bicycling on motor performance and motor symptoms for individuals with Parkinson's Disease. In addition, she has volunteered for the Special Olympics of NJ.
Jessica worked as a physical therapy aide at Westfield Health and Rehabilitation in Westfield, NJ during the summer to maintain patient contact during her time off from school. She enjoys participating in hot yoga, going on runs, and maintaining a healthy lifestyle. In the future, she says she would love to be a physical therapy clinical instructor so she can help students strengthen their skills. Jessica would also like to become an Orthopedic Clinical Specialist after working for a few years.