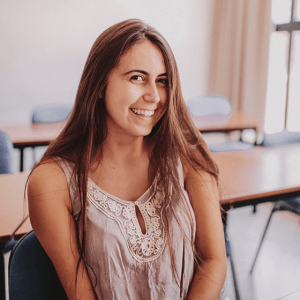 Class Of: 2018
Academic Major: Bachelor of Science in Health Studies
Academic Minor(s): Spanish
Current Academic Program: Master of Public Health, George Washington University, Washington, D.C.
Meet Our Alum
Hope Avalone, class of 2018, spent six weeks of summer 2017 studying in Spain to complete a minor in Spanish. She worked diligently to maintain her 4.0 GPA and, upon graduating, received both the Academic Excellence Award in Health Studies and the Alumni Association Academic Achievement Award.
Hope is a graduate of the Honors School and completed her senior thesis on the association between fish consumption and cardiovascular disease. In her senior year, she acted as the secretary of Colleges Against Cancer, a peer mentor for the Department of Health and Physical Education, and a student researcher for Fruved. She also traveled to Guatemala, as a part of the course "Guatemala Public Health", to and teach health lessons at a domestic violence shelter and build bunk beds and install water filtration systems for impoverished families.
Hope is excited to experience Washington, DC while joining George Washington University's Milken Institute School of Public Health. In 2020, she expects to complete a Master's in Public Health with a concentration in global health program design, monitoring, and evaluation. She is passionate about women's health. In her free time, she enjoys reading, exercising, and finding new music.