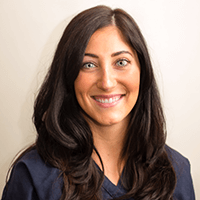 Year of Graduation: 2013
Degree: BS, Health Studies; MS, Physician Assistant
Job Title: Physician Assistant
About Our Alum
Gabriella obtained her undergraduate degree in Health Studies in 2013. She continued her education at Monmouth, earning a Master of Science in Physician Assistant. Gabriella was part of the 2017 inaugural graduating class of the PA program. She is now a board certified physician assistant.
She started her career working for a plastic and reconstructive surgery group in NJ in July of 2017. Gabriella always had a strong interest in plastic and reconstructive surgery, specifically with breast cancer patients. Gabriella works alongside a large group of surgeons as a first-assist in the operating room, seeing patients in the office and performing in-office procedures, as well as managing inpatients in the hospital.
Gabriella is very passionate about Monmouth University and grateful for her experience as a student there because she was able to obtain her dream job and practice what she loves.