Francesca Cuttaia, M.S., PA-C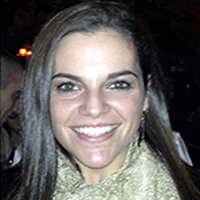 Year of Graduation: 2010
Degree Program: B.S., Health Studies
Current Job Title: Physician Assistant, Neonatal Intensive Care/ Emergency Medicine
Employer: Children's Hospital of Los Angeles
Location: Los Angeles, CA
About Our Alum
Francesca graduated from the Monmouth University Health Studies program in 2010. She was the recipient of the 2010 Marjorie K Unterberg Health Leadership Award, as well as the founding president of the Eta Sigma Gamma chapter at MU. Francesca said, "The guidance and encouragement of Monmouth faculty played a significant role in obtaining acceptance into the Seton Hall University Physician Assistant program."
Dr. Andrea Hope recalls, "In 2009, Francesca took two courses with me: 'Lifespan Development and Health' and 'Women's Health'. Although Francesca was balancing a lot at the time, she gave every assignment her all. Francesca was also an integral part of the installation of our Eta Sigma Gamma (ESG) chapter and, along with the other officers, planned the first induction on our campus. At the time, I was Faculty Director of ESG, and was so pleased to work with Francesca. I'm so happy that Francesca stayed the course and reached her goal of becoming a PA!"
After graduating in 2013 from Seton Hall, she began her career at New York Presbyterian Weill-Cornell Medical Center in the department of Medicine. She spent three years working alongside some of the nation's top physicians, providing care to the residents of New York City.
In addition to working in New York, Francesca also became a privileged provider at Meridian-Hackensack University Medical Center (JSUMC K. Hovnanian Children's Hospital) where she practiced medicine in the Neonatal Intensive Care Unit (NICU). Here Francesca provided around-the-clock care to premature and critically ill newborns around all of Monmouth and Ocean counties, a role she found especially rewarding.
Francesca recently relocated to Los Angeles where she is a full-time PA in the Neonatal Intensive Care unit of the Children's Hospital of Los Angeles and part-time as an Emergency Room PA where she is able to provide care to both pediatric and adult patients. In the future, Francesca plans to travel to developing countries on medical mission trips to provide care to the underserved.