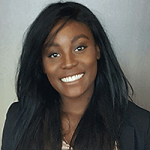 Year of Graduation: 2016
Degree Program: B.S., Health Studies with Biology minor
Current Job Title: Clinical Information Manager
Employer: Bayshore Community Hospital
Location: Holmdel, NJ
About Our Alum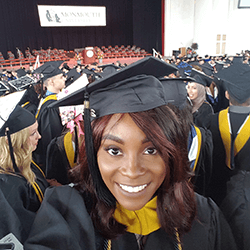 Arianna Gordon, a 2016 Health Studies graduate with a minor in Biology, played for the Women's Soccer team, was a member of the Gender Studies Club, the National Council for Negro Women, CRU, Eta Sigma Gamma and the African American Student Union, holding the position of Vice-President and President. Arianna is a Clinical Information Manager, EmCare at Bayshore Community Hospital.
Arianna completed an externship at Monmouth Medical Center with Patient Care Technicians (PCTs) that consisted of several 12 hour shifts in the Emergency Department. Arianna shadowed and assisted the PCTs with their duties. Arianna said, "The most important part of that position was being able to see the interactions between nurses, physicians, mid-level providers and others within the ED and how those interactions ultimately affected patient care and the work environment. It was a valuable experience that showed me how complex and interesting the dynamics of the ED can be."
Arianna feels fortunate to have been actively involved in many volunteer efforts during her time at Monmouth. Some of the most memorable being service work in Guatemala, an AASU fundraiser held for an orphanage in Haiti, and gift-giving with other members of Athletics at a local school for children with disabilities.
Arianna enjoys cooking, drawing, painting, knitting, crocheting, reading, and exercising.
Arianna said her Monmouth experience was "challenging, exciting and ultimately life-changing." She emphasized "the importance of understanding your population if you really want to help them become healthier."