Financial Aid for International Students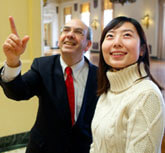 In some cases, international students are eligible to receive financial aid. If you are a U.S. citizen, or an eligible non-citizen, you will want to complete the Free Application for Federal Student Aid (FAFSA) in order to receive federal and, potentially, state financial aid. However, if you are not eligible to file the FAFSA, there are some things that are available to you.
Undergraduate Students
As undergraduates, international students may possibly be awarded one of our academic scholarships and grants: the Academic Excellence Scholarship, the Academic Grant, and the Incentive Grant. Monmouth's academic awards range from $2,000 to $27,000, and are based on a student's cumulative high school grade point average (GPA) and standardized test scores (e.g., the SAT or ACT).
International transfer students also may be eligible for the same scholarships as domestic transfer students. Those scholarships range from $2,000 to $12,000 and are awarded based on the student's cumulative college GPA. Additionally, students may be eligible for one of our Sponsored or Endowed Scholarships. If a student has a cumulative GPA above 3.0, he or she is automatically considered for one of these scholarships.
Graduate Students
There are also scholarships available to graduate students. These include the Graduate Scholarship Award, the Second Master's Scholarship, the Math/Science Educator Scholarship, and Endowed Scholarships.
Additionally, international graduate students may be eligible to participate in the Graduate Assistantship program. A student doing an assistantship would work as research assistant with a faculty member, or perform other duties on campus and receive a credit toward tuition. The dollar value of the assistantship will determine the number of hours the student is required to work. Students may apply for this program during their first semester on campus in order to potentially receive it for their second semester.
Complete Our Scholarship Inquiry Form
Private Alternative Financing
In order to cover the remainder of expenses, both undergraduate and graduate students may be eligible to take out a private loan. The majority of loans, however, require a credit-worthy cosigner who is a U.S. citizen.