Understand the Process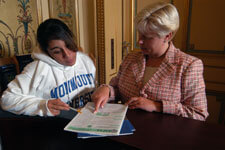 Helping you understand the process of filing for financial aid here at Monmouth University is important to us. This section will guide you through the packaging process, allow you to complete your Direct Loan Entrance/Exit Online Counseling Sessions, sign your Electronic Master Promissory Note, and provide other additional information. These are just some of the many features accessible through this area of our Web site.
Students applying for financial aid are considered for all programs for which they are eligible. The amount awarded is generally a combination of grant, loan, and employment and is based on the student's financial need. Need is determined using the following formula:
COST OF ATTENDANCE MINUS EXPECTED FAMILY CONTRIBUTION = NEED
The cost of attendance is the total cost of education.  The expected family contribution, or EFC, is an objective measure of your family's financial strength and indicates how much of your and your family's financial resources (for dependent students) should be available to help pay for your education. The EFC is calculated from the information you reported on the FAFSA.
The Financial Aid Office determines all aid awards on the basis of the Federal Methodology, which has been legislated by the federal government. The first step in determining eligibility is to complete the Free Application for Federal Student Aid (FAFSA) and then the data is reviewed and evaluated, to create a financial aid package.
Upon acceptance to Monmouth University you are then sent notification of the financial aid package in the form of an award letter. Award letters are sent via email to the student's email address.  The financial aid award may include one or more of the following: grants, scholarships, loans, or Federal Work-Study.
The amount of financial aid granted to any student is based on the extent of need, funds available, and demonstrated academic progress toward a degree. The Bursar's Office bills students each term, and the bill reflects the financial aid that the student has been awarded. Students must pay or make arrangements for payment for the difference between billed charges and applied aid by the due date on the semester invoice.
All students who have financial aid in excess of charges may, if they wish, charge their books and supplies from the University Bookstore to their account. Those charges will be paid when the financial aid funds are disbursed to the account.