Philosophy of Student Empowerment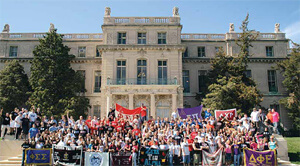 At Monmouth University, one of our primary objectives is to help our students gain the confidence, experience, and skills necessary to become leaders as they meet the challenges of an ever-changing world.
We believe that families play a significant supporting role during the college experience, understanding the many choices the student will be confronted with, being open to communication about these choices, and ultimately supporting the student's decisions.
Accordingly, the core of our philosophy is empowering students to make their own decisions and to be responsible for those decisions. This approach to student development enables us to genuinely say that Monmouth University is a place where leaders look forward.