Health Services and Insurance
The University provides free, ambulatory healthcare for all Monmouth University students. If there is an emergency, the Monmouth police will dispatch an ambulance for transportation to the nearest hospital.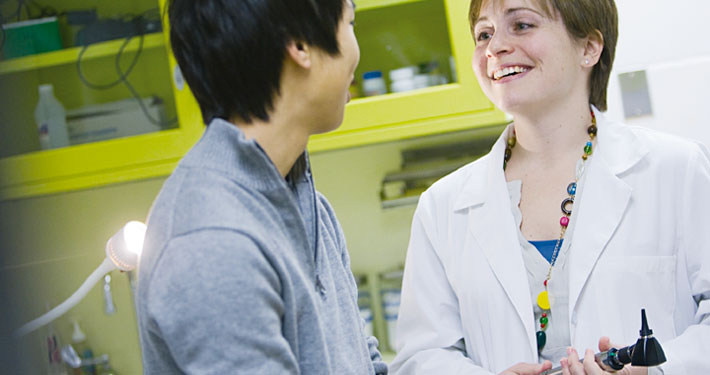 What services are provided by the Health Center?
The Health Center provides comprehensive diagnosis and treatment of common ambulatory illnesses and minor injuries. Staffed by four full-time nurse practitioners (NP), a part-time NP, a part-time physician, a psychiatrist, and a full-time substance abuse counselor, the Health Center also offers both a men's and women's clinic, TB testing, immunizations, and health and wellness education. Outside referrals are made for medical specialists and diagnostic testing.
What if my student becomes ill while on campus?
The services of the Health Center are free for all students, both residential and commuter, undergraduate and graduate. Students who become ill may utilize the services of the Health Center during clinic hours. A special "sick bay" within the center is reserved for those students who require respite care and observation due to illness. There are no overnight services.
What are the hours of the Health Center?
During fall and spring semesters, the Health Center is open Monday to Thursday, 8 a.m. to 7 p.m., and Friday, 8 a.m. to 5 p.m. No appointments are necessary, except for well women's exams and psychiatry.
What happens if a student becomes ill or injured when the Health Center is not open?
A student with an acute illness or injury that occurs outside of clinic hours is transferred to the local hospital via ambulance or University Police. Students may also take advantage of local area urgent care centers whose locations are posted at the health center.
How far away is the hospital?
Monmouth Medical Center is approximately five minutes from the campus.
What should be done if a student is too ill to attend class?
Students are responsible for communicating with their professors regarding any brief (one to two days) absence from class due to medical illness. Students are to notify Health Services and provide medical documentation in the event of a medical absence from classes lasting three or more days. The Health Center will notify the faculty of any student who will have a prolonged absence (three or more days) from classes due to illness or injury.
Are parents notified when a student is ill?
If a student is over 18 years of age, it is his or her legal right to first provide consent in order for a parent to be notified of an illness or injury. Young adults are also legally responsible for making their own healthcare decisions. In emergency cases, parents will be notified, as next of kin, by either the University, University Police, or Monmouth Medical Center.
How should the University be notified if a student has a special health condition?
All students are required to complete the medical history section of the Student Health Record. Notation of any special medical conditions, allergies, medications, or self-care deficits should be made on the medical record. In addition, students or parents may consult with the Director of Health Services to discuss any health concerns that may impact the student's ability to attend classes.
What if a student does not submit the health and immunization records?
Without a complete health record, the ability to provide safe care and treatment for the student is jeopardized. Additionally, a resident student's room assignment may be penalized and course registration may be blocked for any student who does not comply. For all new students starting in the fall semester, health records need to be submitted by July 1. Students may submit all required health documents through the Student Health Portal found in myMU web access.
What other information does the Health Center require?
All matriculating students ages 30 or younger, need to provide proof of immunization for measles, mumps, and rubella. Measles and mumps vaccination requires two separate doses. In lieu of vaccination, students may opt to show proof of immunity via laboratory titers. Meningitis vaccination within the last five years is required for all students who reside in campus-sponsored housing. Students carrying nine or more credits must also show proof of vaccination with the hepatitis B series (three shots).
Health Insurance
Good health plays an important role in academic success. Unexpected medical bills can threaten a student's ability to complete their education should they be uninsured. In accordance with the federal Affordable Care Act, Monmouth University strongly encourages all students to be covered under a health insurance plan. Students who are not covered under a health plan may go to www.healthcare.gov to find an insurance plan that meets the health and financial needs of the student. To support campus health and wellness, students have the ability to enter and upload their current health insurance information through the Student Health Portal found in myMU web access.