Center for Student Success
The Center for Student Success (CSS) provides services that include academic, personal, and career development for all full-time and part-time students. It is located in the Student Center, and students are encouraged to use the resources there regularly. Each semester the CSS offers workshops on a variety of topics including time management, study skills, and résumé writing.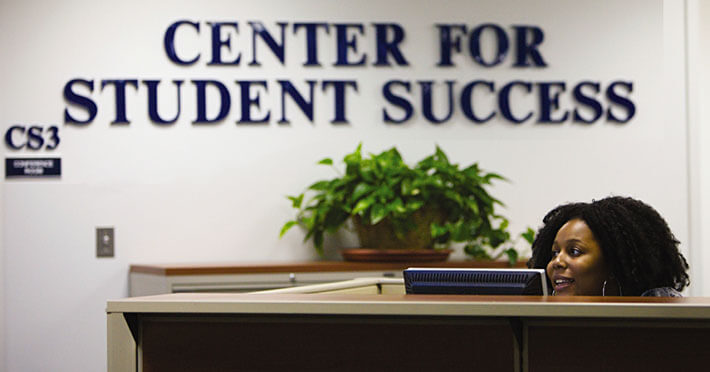 First Year Advising
The First Year Advising office is a key resource available to your student at Monmouth University. This office oversees first-year advising and first-year major/career advising. First Year Advising also works in cooperation with various University divisions to ensure that first-year students experience the opportunities and support needed to succeed at Monmouth.
Over the course of the academic year, your student should enjoy academic activities sponsored by the First Year Advising office that promote his or her personal growth and learning. Also, your student can e-mail, call, or stop by the First Year Advising office with any college-related questions and concerns. Students are greeted by welcoming and well-informed staff members who provide clear information about what to expect at Monmouth and what the University expects of its students.
Please visit the Center for Student Success web-page. The First Year Advising office is located on the lower level of the Rebecca Stafford Student Center (RSSC). It is open from 8:45 a.m. until 5 p.m., Monday through Friday, and until 6 p.m. on Wednesdays. The phone number is 732-263-5868.
How does first-year advising work?
All first-year students will receive extensive academic advising from specially trained faculty who are part of our First Year Advising program. While most students tend to think of advising simply as help with registering for courses, our program strives to build an advising relationship that works holistically in order to help students develop their academic, career, personal, and social interests.
Are new students required to any placement tests before being advised and registered?
Yes, all students must take the Mathematics Placement Exam (MPE), which helps advisors guide students into mathematics courses appropriate to their level of ability and for the major selected. The MPE is offered online; exams are administered on campus for students who require special accommodations. For sample exam questions, students may go to the Math Placement section of the Mathematics Department's site.
What happens in the first advising session during New Student Orientation?
Our advising programs are designed to give first-year students an overview of the University's general education requirements, major offerings, and responsibilities in the advising process. Although the primary focus of this session will be to build a schedule for the first semester, first-year advisors will also be interested in discussing your student's potential interests in majors, minors, careers, and extracurricular activities. You should also know that students will be directed to SOAR (Support, Orientation, Advising, and Registration), an online resource center/community specially designed for the Class of 2019. Students should visit SOAR before they come to campus in order to complete important exercises that will help prepare them for their first advising session. Students will receive a letter telling them how to access the SOAR community online.
What happens during the fall semester?
Students are required to see their first-year advisors at least twice in September/October to plan their spring schedules. First-year advisors will also want to connect with students to find out how their adjustment to University life is going and to intervene, when appropriate, to minimize any serious problems during the first year. Students are encouraged to see their first-year advisors frequently and use them as a resource on campus.
What happens during the spring semester?
The spring semester is a busy time for the first-year student. Still adjusting to University life, he or she is now starting to prepare to "become a sophomore." This involves planning the sophomore year schedule with his or her first-year advisor and, more importantly, clarifying his or her personal and career goals.
What responsibilities does my student have in the advising process?
Your student will get the most out of our advising system by being an active participant. Encourage him or her to:
know the name, location, and office hours of the first-year advisor
initiate contact with the first-year advisor and stay in frequent contact
check his or her MU e-mail account regularly
respond as soon as possible to all letters, e-mails, or phone calls from the first-year advisors, professional counselors, department chairs, deans, or faculty on campus
be on time for advising/counseling appointments
call ahead to reschedule if the student is unable to keep an appointment
consult with the first-year advisor well in advance of the early registration period and begin academic planning early
be prepared for appointments by becoming familiar with major requirements and possible course options
ask for referrals if help is needed
discuss and seek advice on possible schedule changes, withdrawals, changes in major, transferring, or options to take summer courses
print and review the Academic Audit through WEBstudent before and after all registration activities
learn about the special services provided by the CSS, professional counselors, and other offices on campus
read the undergraduate catalog, student handbook, and other official Monmouth University publications in order to learn important Monmouth University rules and regulations
attend CSS workshops and other relevant programs—bring a friend!
keep a folder or file with all forms, grade reports, notices, receipts, and other important information
visit the Experiential Education Web site to begin planning for this important graduation requirement
If my student experiences academic difficulties, what should be done?
Your student should see his or her first-year advisor, who can provide a variety of referrals, depending on the student's needs. You can also encourage him or her to speak with professors, attend University workshops, or use our Tutoring and Writing Services and the Mathematics Learning Center. Your student will also be part of our Monmouth Early Warning System (MEWS) for the first year.
Will I see my student's grades? What is FERPA?
Parents and guardians do not automatically receive copies of grades because of the Family Educational Rights and Privacy Act (FERPA). If you wish to receive information, your student must complete a release form through the University. This release will be in effect until he or she changes it. Only those records indicated approved by the student will be released. Students can fill out the FERPA Release online via their WEBstudent page.
What can I do as a parent to remain aware of how my student is doing?
Keep the communication lines open! University life is very different from high school. This is a transition time for all involved, regardless of whether your student is living on campus or commuting. You may want to ask questions like: "Did you receive any early warning notices?" and "Have you been to see your first-year advisor?" As a parent, you may also want to know of important dates, such as the last day to drop a class, when midterms are, and when final exams start. This information is printed on the Academic Calendars web page on Monmouth University's Web site. Finally, be aware of how the FERPA regulations affect your access to your student's records and the need to have the release signed in order to obtain information.
What is the First Year Seminar? How will it help?
First Year Seminar (FY101) is a three-credit academic course designed to help new students make a successful transition into the intellectual life of Monmouth University. The courses are taught on a variety of topics by full-time professors from all academic disciplines who engage students in scholarly inquiry within their areas of interest and expertise.
Within the courses, students sharpen their academic skills, study ethical issues related to both the course topic and to university life, and learn about Monmouth resources and opportunities. Students also gain experience in critical analysis of information and hone their research and collaborative problem solving skills. Students will be able to select from a wide variety of course titles, such as From Our Classroom to your Boardroom; Mass Media and Popular Culture; Great Excavations; Numbers, Clocks, and Secret Codes; Dinosaurs and DNA: Biology in the Movies; Lead or Step Aside; Experiences of Childhood and Adolescence; Peace Corps: Experience and Serve the World.
Most First Year Seminar classes have a Peer Learning Assistant (PLA). Acting as a mentor/role model and assistant to the professor, the PLA supports the adjustment, learning, and self-exploration most students experience in their first semester. PLA positions are paid and applications can be found on the First Year Seminar website.
What if my undeclared/undecided student needs help with selecting a major or with career planning?
A great deal of support is available to help students with majors and career choices. Students can assess their career interests and abilities in a variety of ways, and we strongly encourage all first-year students to begin this exploration as early as possible. Students interested in investigating major and career options are encouraged to arrange an individual appointment through the First Year Advising office. A student is allowed to remain "undeclared" through the sophomore year when he or she completes 57 credits. At that time, a major must be declared. Students who are sophomores and undeclared are advised by student development counselors in the Undeclared Services area of the CSS.
We recommend that students begin this exploration process by taking FOCUS online. FOCUS can be found on  via our  Career Resources page and is available to all Monmouth University students. FOCUS is an Internet-based career- and education-planning system designed to provide students with personalized career and education exploration and planning services. FOCUS is easy to use and offers valid and reliable research-based, career-planning resources. Users can self-assess, broaden their career horizons, narrow down their options, and map out realistic goals and plans using the system. We recommend that new users begin with the Self-Exploration Assessments.
Students are encouraged to begin career planning during their first year and should follow the Student Career Planning Guide, available online, which outlines career planning steps during freshman, sophomore, junior, and senior years. In addition to the Student Career Planning Guide and FOCUS, several other major- and career-assessment tools are used to guide students to make well-informed decisions.
What is WEBAdvisor?
Within WEBAdvisor, students will be able to access real-time academic and financial information through the WEBstudent link. The following information is a sample of the type of information available on the WEBstudent menu: grades, grade point average, final exam schedule, transcript, class schedule, e-FORMS, academic audit, financial aid information, academic calendars, resident student phone bill information, parking information, health insurance waiver, NJ Transit Student Quik-Tik, Student Employment information, housing deposit information, information about Blackboard-Connect® (MU's emergency notification system), computer lab availability, curriculum charts, University catalog, academic forms, and academic procedures. In addition, once students complete their first semester at Monmouth, most will have the opportunity to register through WEBstudent (WEBregistration). Additional information concerning WEBregistration will be provided at the appropriate time. All new students receive a letter providing their user ID for Hawkmail@Live, Monmouth's e-mail system, and their password for WEBstudent. Please note that all correspondence with University offices via e-mail must be from the student's Monmouth University Hawkmail@Live account.