Academic Support Services
How many credits are required for graduation?
The minimum number of credits to graduate is 128. Some academic programs will exceed that amount.
Is there an attendance policy for the University?
Monmouth University believes that attendance is essential to success in academic courses. Therefore, class attendance is required. The University believes that learning is an interactive process on the part of students and is not just a matter of their passive absorption of information. To benefit fully from their respective courses, students need to participate in, and contribute constructively to, the classroom experience. In fact, the success of a course depends as much on what students contribute to the class as what the instructor presents
Grades in courses normally are based on academic performance, contribution, and examination. Individual faculty members may, however, adopt reasonable regulations that additionally relate grades to attendance. All professors will state their specific attendance policies in a written statement with the pertinent requirements and will give it to the students during the first two weeks of the semester. A student who, for any reason, is not present at a particular class or laboratory is, nevertheless, responsible for the requirements of the course.
What are the required courses?
Monmouth University has a specific set of general education requirements that must be completed by all majors. These include one First Year Seminar, two English compositions, one literature, one reasoned oral discourse, one or two historical perspectives, one interdisciplinary studies, one technological literacy, one or two social sciences, two natural sciences, one mathematics, one aesthetics, one cultural diversity, and one global understanding, as well as departmental requirements. In addition, all baccalaureate students must complete the Experiential Education degree requirements and two writing-intensive courses within the major. For further information on these courses, please refer to the online Undergraduate Catalog.
Are there required computer courses in the major subjects?
Students are required to take a technological literacy course; the required course will vary depending upon the major.
What services are available for students with disabilities?
Self-identified students with disabilities who have submitted appropriate documentation may request reasonable accommodations as specified by Section 504 of the Rehabilitation Act of 1973 and the Americans with Disabilities Act. Assistance is provided by the Department of Disability Services for Students. First-year and transfer students who register with the Department of Disability Services for Students are encouraged to take Transition to College (ED101), a one-credit course addressing such issues as learning styles, academic and social adjustments to college and residential life, time management and study skills, student networking, and self-advocacy.
Does Monmouth University have an academic early warning system?
Monmouth has a computerized early warning system involving all first-year students. Advisors are regularly informed of difficulties that first-year students and other selected populations are experiencing in their classrooms, such as absences or poor performance. Advisors attempt to contact students in order to help them avert serious difficulties. Monmouth's Early Warning System (MEWS) has been an outstanding feature of our student retention program since it was introduced.
How do transfer students plan their academic schedules?
Transfer students who have 18 or more credits are assisted through the CSS by the coordinator of undeclared majors and transfer programs in regard to: a) arranging an appointment with their academic department to meet with a faculty advisor for academic advising and registration; b) mathematics placement testing (if applicable); and c) transfer orientation and other topics. CSS counselors are also available to assist new transfer students with transitional concerns.
What tutoring services are available?
Located in the Center for Student Success, Tutoring and Writing Services provides free, personalized academic assistance to all students at the University. Students may be referred by faculty members or advisors, or they may come voluntarily.
Tutoring Services offers content-specific tutoring sessions in 100 or more academic courses. In one-on-one and group tutoring sessions, students are able to review course material, develop skills, and ask questions in a friendly, informal environment. These collaborative sessions are intended to guide and motivate students to achieve their academic goals. In addition, faculty master tutors offer workshops covering strategies for college success, such as organization, time management, note-taking, listening skills, textbook reading strategies, and test-taking preparation.
Writing Services is a free resource available to students and employees who need help with their writing skills or wish to improve their work. Peer, faculty, and professional writing assistants are available for one-on-one writing assistance in all academic disciplines and at all stages of the writing process, from brainstorming ideas and writing drafts to polishing the final revision and reviewing documentation styles. In addition, they regularly hold workshops on grammar and punctuation skills, writing strategies, and documentation styles.
Finally, the Mathematics Learning Center, located in Howard Hall, offers assistance in a supportive environment that individualizes the service to the specific needs of the student. It may also be used by students as a place to work on homework problems or to study for examinations while having tutors available.
For information about Tutoring Services, call 732-263-5721 or visit the Tutoring Services Web site. For information on Writing Services, call 732-571-7542 or visit the Writing Services Web site. For information about the Mathematics Learning Center, call 732-263-5305 or visit the Mathematics Learning Center Web site.
What is Supplemental Instruction?
Supplemental Instruction (SI) is a free, peer-facilitated academic assistance program, housed within the CSS, designed to help students succeed in traditionally difficult courses. SI sessions are regularly scheduled, informal review sessions that involve collaborative learning activities through which students can clarify course concepts and practice the types of study strategies that will help them truly master the information and skills required by the target course. For information about SI, please call 732-263-5345 or visit the Supplemental Instruction Web site.
What is the current class size?
Class size will vary from course to course, but the average class is 21 students.
What is the Experiential Education (ExEd) requirement?
Undergraduate students entering Monmouth University are required to complete an Experiential Education (ExEd) requirement. Recognizing that students can learn more by combining the theories and ideas taught in a classroom with real-life experiences, Monmouth provides opportunities such as internships, cooperative education, and service learning courses to help students achieve these objectives in a variety of ways.
Special programs and materials have been developed to help students understand the importance of ExEd. Students can attend the Majors Fair, which is an event where faculty and other students can discuss career options within specific majors (and minors), as well as discuss Ex Ed requirements within each department.
The Experiential Education News is published during the fall and spring semesters and features student success stories.
What is the Honors School?
The Honors School provides a supportive environment that encourages students to excel in both their studies and their capacity for leadership. Entrance into the program is open to students who have demonstrated intellectual excellence in high school or who do so after they have completed 12 credits.
The program requires 25 credits: 12 from the General Education curriculum at the 100-200 level, 9 credits of course work at the 300-400 level, and 4 credits for Honors Thesis. Many General Education classes in English, Western civilization, and the social sciences are designated honors. Limited in size to 20 students, many are thematically linked: students attend the same classes together, allowing them the opportunity to make friends and collaborate on projects, while the professors work together to develop a common theme and assignments. Trips to local and New York City cultural events and institutions complement class instruction. Students in the sciences are also enrolled in special honors sections of biology, chemistry, and/or mathematics.
In addition to the 12 credits in General Education, students are required to take 13 credits at the upper level in their major, including a 4-credit Honors Thesis in the senior year. Students receive a special diploma and a transcript designated "Graduate of the Honors School." Special housing in Honors House, located in Beechwood Hall, is available upon request on a first-come, first-served basis. Students, if they wish, can live elsewhere on campus or at home. The Honors office, located in Beechwood Hall, provides academic and administrative support services to all honors students, both residents and commuters. Honors students are noted for their high levels of success in obtaining employment and entry into graduate school.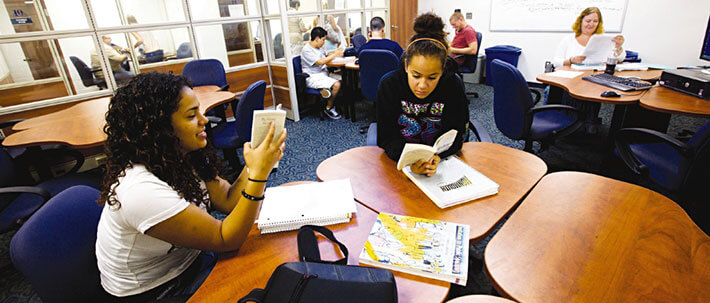 What is the Educational Opportunity Fund (EOF) Program?
The Educational Opportunity Fund (EOF) Program was established by the New Jersey Legislature in 1968 to provide access and post-secondary opportunities to economically disadvantaged residents of New Jersey. The EOF Program at Monmouth University provides academic, financial, and personal support services. A pre-first-year, five-week, residential summer program is mandatory for all incoming first-year EOF students. EOF students must meet state and University academic and financial guidelines. Information is available in the Educational Opportunity Fund office and online at the Educational Opportunity Fund Web site.