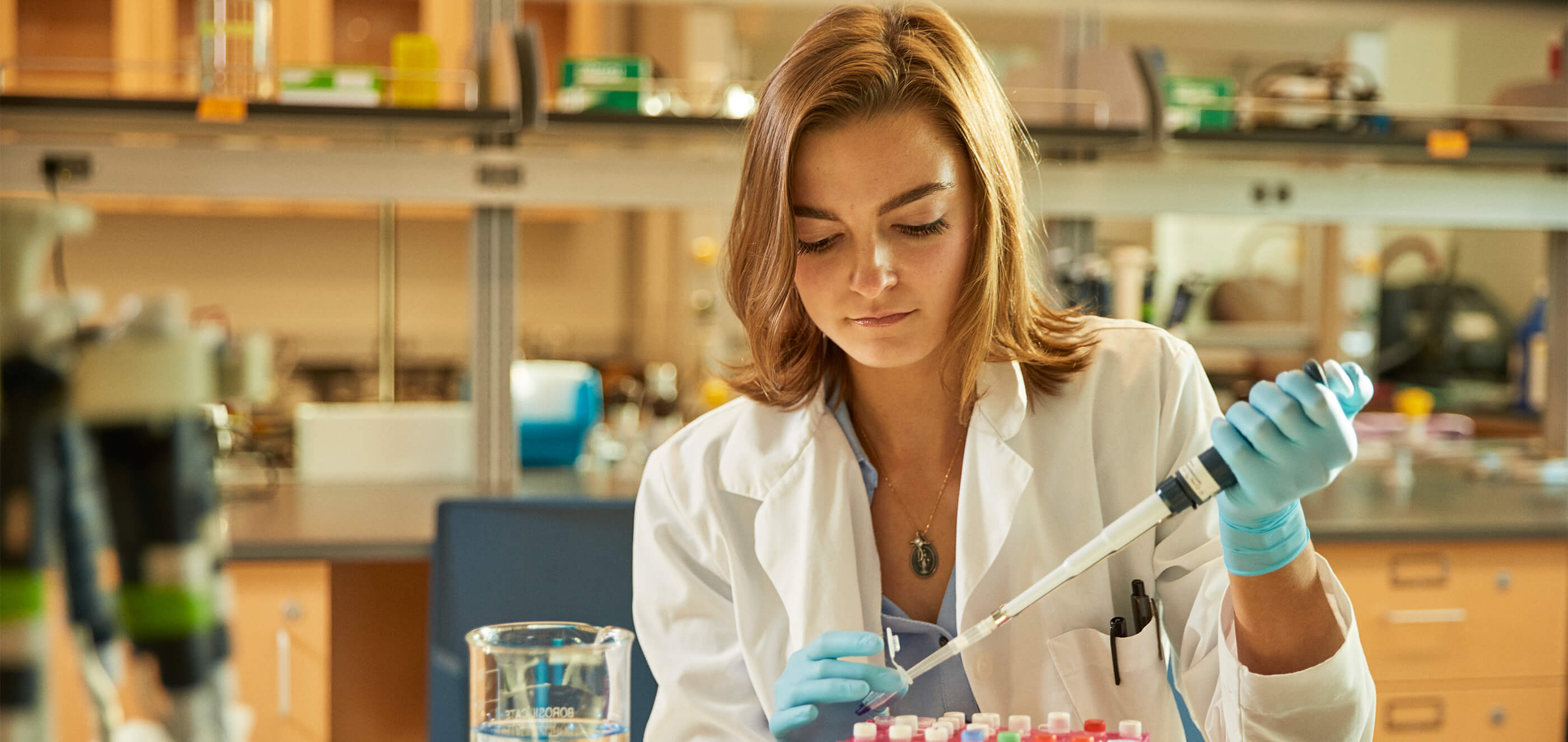 Meeting the Demand for Skilled Health Care Practitioners
Alumni change the landscape of local health care and pave the way for our students to earn leadership roles in an increasingly complex landscape of medical advances, regulatory changes, and a greater reliance on technology.
The Marchettis Answer Call to Service
As the nursing field continues to evolve, Monmouth University has been a forerunner in meeting the demands of its students. Our history goes all the way back to 1943 when we offered pre-clinical training to nursing students in cooperation with the Monmouth Memorial School of Nursing (now Monmouth Medical Center) and the Ann May School of Nursing at Fitkin Memorial Hospital. One couple has played a central role in promoting our development–Carl '91M and Janice Marchetti '85.
Dr. Carl and Janice Marchetti not only share over 55 years of marriage, but also the distinction of being among the pioneering group behind the Jersey Shore Medical Center.
Carl, a certified OB-GYN, earned an MBA from Monmouth in 1991 and was honored by President Barack Obama with the 2013 President's Call to Service Award, which is presented to those who demonstrate passionate devotion to the success of their communities by volunteering for more than 4,000 hours. He joined the inaugural staff at Jersey Shore Medical Center in 1966 after completing a three-year residency in obstetrics and gynecology at Fitkin Memorial Hospital, the precursor to Jersey Shore.
In 1981, he became the first physician to join the hospital administration. During his administrative career at Jersey Shore Medical Center, Carl helped guide and deliver not only more than 5,000 babies but also many advanced health care services and programs, including the regional cardiac surgery program, a regional trauma center, extensive development of academic and research programs, and multiple hospital construction projects.
Outside of the hospital, his leadership of the New Jersey Health Planning Council helped launch new health care services across the state through the certificate of need process, and helped guide the move toward increased regionalization and partnership within the state's health care delivery system.
In December 2009, Carl was presented with the Lifetime Achievement Award by William Larkin, Mayor of Ocean Township, at the Township of Ocean Inaugural Mayor's Charity Ball.
"As a [former] long-time resident of Ocean Township, Dr. Marchetti has achieved such significance in the medical field and, in turn, has given so much back to our community," said Larkin. "It was just natural that he receives this award as our way of thanking him for all he has done."
He is currently a part-time gynecologist at Monmouth County Associates Healthcare for Women. Many of his volunteer hours have been spent with the Boy Scouts of America, and in recognition of his many years of outstanding service, he was the recipient in 2004 of the second Legacy of Servant Leadership Lifetime Achievement Award. In 2012 he was honored for 50 years of service on the Order of the Arrow National Committee. He is the only person in the 100-year history of the Boy Scouts to serve on any national committee of the organization for 50 years.
Carl's wife, Janice, was a student in the 1960s at the Ann May School of Nursing at Fitkin Hospital, where she achieved a perfect score of 800 in the pediatrics section of her state boards. While attending Monmouth in the early 1980s to earn her BSN degree, she started the Lambda Delta chapter of the Sigma Theta Tau International honor society as a "senior change project." The chapter was chartered on March 11, 1990. STTI is one of the largest nursing honor societies in the world. Now with about 175 members, the Monmouth chapter includes BSN and MSN students, community leaders, faculty, and alumni. The Lambda Delta chapter has also established an award in her honor.
"Janice was instrumental in creating Monmouth's chapter of Sigma Theta Tau, the National Honor Society of Nursing," said Maureen Bowe '99, a Janice Marchetti Leadership Award recipient. "Janice was a mentor to many of us. I was honored to receive this award having known and worked with Janice. It was one of the highlights of my professional nursing career."
The demand for skilled health care providers is growing as baby boomers reach retirement age. With a looming shortage of nurses, more highly skilled nurses are needed to fill administrative leadership roles in an increasingly complex landscape of medical advances, regulatory changes, and a greater reliance on portable and mobile technology.
Thanks to alumni like Carl and Janice, Monmouth is positioned perfectly as a leading university for nursing, including the addition of the Doctor of Nursing Practice program in 2011. For nurses and those planning to enter the field, this means more opportunity to address the many health care challenges facing our nation.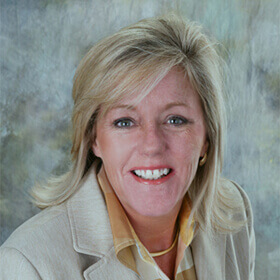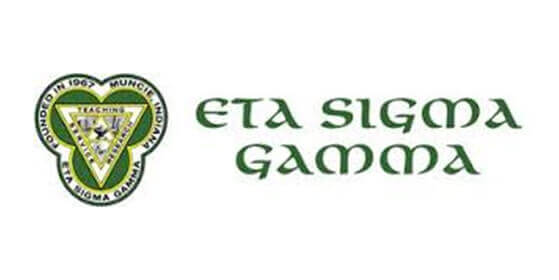 Eta Sigma Gamma is the national honor society for health education. Eta Sigma Gamma's mission is to promote the health education discipline by elevating the standards, ideals, competence, and ethics of professionally prepared individuals through teaching/education, service and research. Events regularly hosted on campus include first aid and CPR training, "Operation Sleighbells" for families in need during the holidays, blood drives, and "Relay for Life."
More to Explore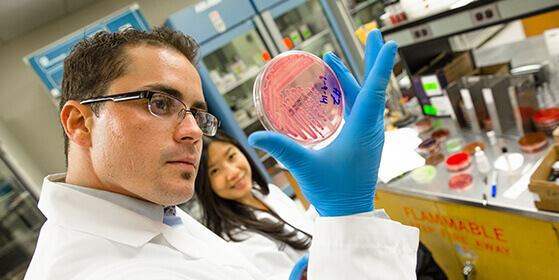 Medical laboratory science majors from the Department of Chemistry and Physics are consistently at the top of their internship classes, earn certification from the National Accrediting Agency for Clinical Laboratory Sciences, and promptly secure employment in a variety of laboratory settings. Pre-professional health students have completed internships at Monmouth Medical Center, Detroit Mercy Dental School, Nassau Medical Center, and at local physician, dental, and veterinary offices.
Forbes magazine ranked physician assistant studies as the best master's degree for jobs based on long-term opportunity and salary. The profession has made many best jobs lists in the past few years—a testament to its continued demand and value. Physician assistants have a median salary of $108,430 per year and a 31% projected job growth from 2018–2028, according to the Bureau of Labor Statistics.
Employment of registered nurses is projected to grow 12 percent from 2018 to 2028, much faster than the average for all occupations. More than half a million employment opportunities for registered nurses (RNs) are projected to open up between 2012 and 2022. (U.S. Bureau of Labor Statistics).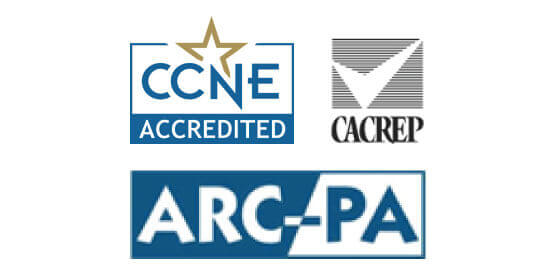 Accreditation
Doctor of Nursing Practice is accredited through the Commission of Collegiate Nursing Education (CCNE)
The Master of Science in Clinical Mental Health Counseling is the first mental health counseling program in NJ to be accredited by the Council for Accreditation of Counseling and Related Educational Programs (CACREP).
At its September 2023 meeting, the Accreditation Review Commission on Education for the Physician Assistant, Inc. (ARC-PA) placed the Monmouth University Physician Assistant Program sponsored by Monmouth University on Accreditation-Probation status until its next review in September 2025.
Probation accreditation is a temporary accreditation status initially of not less than two years. However, that period may be extended by the ARC-PA for up to an additional two years if the ARC-PA finds that the program is making substantial progress toward meeting all applicable standards but requires additional time to come into full compliance. Probation accreditation status is granted, at the sole discretion of the ARC-PA, when a program holding an accreditation status of Accreditation – Provisional or Accreditation – Continued does not, in the judgment of the ARC-PA, meet the Standards or when the capability of the program to provide an acceptable educational experience for its students is threatened.
Once placed on probation, a program that fails to comply with accreditation requirements in a timely manner, as specified by the ARC-PA, may be scheduled for a focused site visit and is subject to having its accreditation withdrawn.
Specific questions regarding the Program and its plans should be directed to the Program Director and/or the appropriate institutional official(s).
The program's accreditation history can be viewed on the ARC-PA website at https://www.arc-pa.org/accreditation-history-monmouth-university/.