Events for April 9, 2019
Events Search and Views Navigation
All Day
As a universal language the arts are a very effective tool for addressing social issues. The #metoo movement has brought to the surface long ignored injustices perpetrated mostly against women for generations that are finally screaming to be remedied. This juried exhibition will feature works that eloquently depicts remedies, that teach us how to honor women and others who have been maligned, how to implement change within our culture, to alter perceptions and ultimately excise this malady for future generations.
Find out more »
The exhibition features a selection of some twenty-one works. All are from Monmouth University's extensive collection of Jacob Landau's work, comprising over 300 prints, drawings and paintings. The collection was gifted to Monmouth University in 2008 by the Jacob Landau Institute of Roosevelt, NJ. This exhibit is co-sponsored by the Jewish Culture Studies Program and the Honors School of Monmouth University.
Find out more »
7:30 pm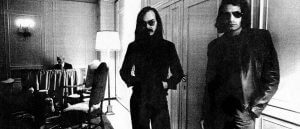 It's just like book club but with albums! With new advances in technology, the way we consume music through our devices, apps and on demand streaming services like Pandora, Spotify and iTunes is making the idea of the "album" as an art form extinct. Get together with other music enthusiasts on Tuesday nights to discuss some of the greatest records of all-time! Listen to the album beforehand and then come prepared to discuss… there will be special guest moderators and panelists at each event! This event will feature Steely Dan's Aja.
Find out more »
+ Export Events