Events for December 4, 2018
Events Search and Views Navigation
All Day
A retrospective of work by Vincent DiMattio celebrating his 50 years as a professor in Monmouth University's Department of Art & Design. Professor DiMattio earned his MFA from Southern Illinois University and his BFA from Massachusetts College of Art. He joined the University's faculty in 1968 where he served as the department chair for 13 years and as gallery director for more than 20 years. He was largely responsible for starting the gallery program at Monmouth University.
Find out more »
10:00 am
When Pete the Cat gets caught rocking out after bedtime, the cat-catcher sends him to live with the Biddle family to learn his manners - and boy are they square! But for the groovy blue cat, life is an adventure no matter where you wind up, so the minute Pete walks in the door, he gets the whole family rocking. The whole family, that is, except for young Jimmy Biddle, the most organized second grader on planet earth. As the end of second grade approaches, Jimmy has a lot of tests, and the last thing he needs is some groovy cat in his life, changing his family and turning everything upside down. But when Jimmy draws a blank in art class during the last week of school, it turns out Pete is the perfect friend to help him out. Together, they set out on a mission to help Jimmy conquer second grade art, and along the way, they both learn a little something new about inspiration. Join Jimmy and Pete on an adventure of friendship, all the way to Paris and back in a VW Bus.
Find out more »
7:30 pm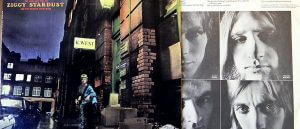 It's just like book club but with albums! With new advances in technology, the way we consume music through our devices, apps and on demand streaming services like Pandora, Spotify and iTunes is making the idea of the "album" as an art form extinct. Get together with other music enthusiasts on Tuesday nights to discuss some of the greatest records of all-time! Listen to the album beforehand and then come prepared to discuss… there will be special guest moderators and panelists at each event! This event will feature David Bowie's The Rise and Fall of Ziggy Stardust and the Spiders from Mars.
Find out more »
+ Export Events