VIRTUAL: Internships Could Lead You To Your Dream Job, Here's How To Land One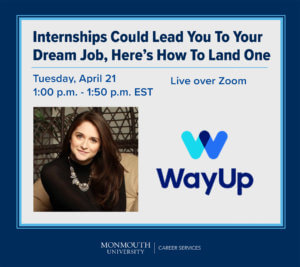 Internships Could Lead You To Your Dream Job, Here's How To Land One
Presented by Liz Wessel, Co-Founder & CEO of WayUp, a venture-backed startup based in NYC that transforms how employers recruit students and recent graduates
Tuesday, April 21, 2020
 1:00 – 1:50 p.m. EST
Live over Zoom: Please RSVP to careerservices@monmouth.edu in order to receive the Zoom link. This event is open to all students and majors!
---
Research shows that participating in multiple internships in college helps you to secure employment or enter graduate school within six months of graduation. Yet with over 16 million students enrolled in degree-granting post-secondary institutions, how do you stand out in a crowd for the internship of your dreams?
Follow Liz Wessel's secret formula — REAF — to nail any interview and land your next internship. From research to enthusiasm and asking questions to following up, here's how you stand out (and eventually wind up at your dream job).