Assistant Professor
MU Clinical Educator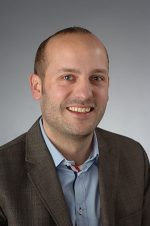 Ph.D., Modern Languages, University of Birmingham, UK
Postgraduate Certificate in Education, University of Birmingham, UK
B.A., French and Hispanic Studies, University of Birmingham, UK
Office

Plangere Center for Communication 125

Phone

Email

?>CV

https://drive.google.com/file/d/0B6AiNUrAikd6aHB6c3JZVjNKVmc/view?pli=1
Courses this Semester

FS 102-01
FS 102-02
FS 398-01

Regularly Taught Courses

FS 102 Elementary Spanish II
FS 300B Advanced Spanish Composition and Conversation
FS 301 Introduction to Hispanic Literature
FS 305 Survey of Spanish-American Literature
FS 398 Caribbean Crossroads: Race, Religion and Identity Politics in Hispanic Caribbean Literature
FS 405 The Spanish-American Short Story
FS 409 Advanced Spanish Grammar and Stylistics
FYFO 107-01 Caribbean Voices: Language, Culture and Identity

About

Professor Humphrey's research focuses on gender, sexuality, and African-derived religions in Caribbean literature. His monograph, Santería, Vodou and Resistance in Caribbean Literature: Daughters of the Spirits (2019), was published in the Studies in Hispanic and Lusophone Cultures Series at Legenda, an imprint of the Modern Humanities Research Association. He has published peer-reviewed articles in Sargasso, Journal of Haitian Studies, International Journal of Francophone Studies, and in the edited volume Capital Culture: Perspectives in Ethnic Studies II. In 2014, Professor Humphrey was awarded a dissertation publication prize by the Association of Hispanists of Great Britain and Ireland and the Spanish Embassy in London.

Professor Humphrey is affiliate faculty of Monmouth University's gender studies program and a Clinical Educator in the School of Education.

Research Interests

Contemporary Caribbean literary and cultural studies
African-derived religions of the Caribbean
Women's, gender, and sexuality studies
Comic-book representations of the Caribbean and its cultures

Publications

Books

Scholarly Articles

Peer-Reviewed Journal Articles:

"Ikú, Cumachela, and the Figure of Death in María Antonia by Eugenio Hernández Espinosa." Bulletin of Hispanic Studies. (Forthcoming)

"'El manto que cubre el mar': Religion, Identity and the Sea in Rita Indiana's La mucama de Omicunlé." Sargasso: A Journal of Caribbean Literature, Language & Culture, vol. 2016-17, no. 1 & 2, 2018, pp. 109-125.

"Of Sound, Mind and Body: Female Sexuality and Vodou in Kettly Mars' Fado." International Journal of Francophone Studies, vol. 17, no. 2, 2014, pp. 137-157.

"Gods, Gender and Nation: Building an Alternative Concept of Nation in Four Novels by Mayra Montero." Journal of Haitian Studies, vol. 18, no. 2, 2012, pp. 119-134.

Peer-Reviewed Book Chapters:

"Capital Prostitution: Voices from the Shadows in Post-Earthquake Haitian Fiction." Capital Culture: Perspectives in Ethnic Studies II, ed. by Cheryl Toman, La Doxa Editions, 2019, pp. 137-158.

Other Publications

Co-edited Volumes:

Assistant guest editor with Roberto Strongman and Eric Heuser, Journal of Haitian Studies, vol. 18, no. 2, Fall 2012.

Book Reviews:

"Dany Laferrière: Essays On His Works by Lee Skallerup Bessette." Bulletin of Francophone Postcolonial Studies, vol. 5, no. 2, 2014, pp. 24-25.

Awards

The Association of Hispanists of Great Britain & Ireland and the Office for Cultural and Scientific Affairs of the Spanish Embassy Annual Publication Prize for Doctoral Students (2014).