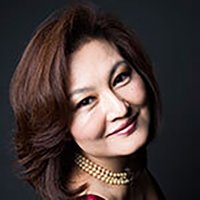 Office

Phone

Email
About

Lyric soprano Jee Hyun Lim is an internationally known opera and concert singer, and a voice teacher. She has performed more than 25 operatic heroines with companies such as Lyric Opera of Chicago, Atlanta Opera, Minnesota Opera, New York City Opera, Seattle Opera, Royal Albert Hall, and in Santiago, Tokyo, Dublin, Zagreb and Bergen (Norway), Vancouver, Cincinnati, Detroit, Seoul, New Orleans, to name a few.

She has performed Messiah at Lincoln Center eleven times, and appeared in many concerts and oratorios in New York, Chicago, Atlanta, Virginia, New Hampshire and Seoul.

Miss Lim was educated at the Seoul National University, the Juilliard School, and the Juilliard Opera Centre and was the winner of the Sullivan Award and the Artist of the Year by Syracuse Opera.

Since 2013, she has been teaching at Lehigh University.