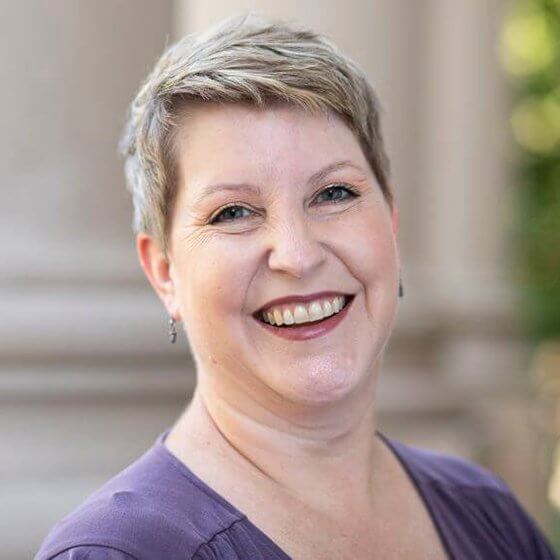 Heidi Bludau, Ph.D.
Lecturer, Applied Anthropology
Career Advising Mentor
Scholarly interests: Medical anthropology; Business anthropology; Globalization; Migration; Identity
---
Department

Office

Howard Hall 334

Phone

Email
Heidi Bludau, Ph.D.
Dr. Heidi Bludau is a lecturer in Applied Anthropology. She is a cultural anthropologists with interests in medical anthropology, business anthropology, globalization and organizational culture.
Education
Ph.D., Indiana University
M.Ed., Texas A&M University
B.A., Texas A&M University
Research Interests
Dr. Bludau's research program centers on the professional identity of healthcare workers, primarily nurses. The project that served as the basis of her dissertation was an examination of global healthcare migration through the recruitment and migration of Czech nurses; Saudi Arabia is their primary destination site. She uses a critical and applied approach to medical anthropology in order to examine the Czech and Saudi national healthcare systems and policies in relation to individual motivations for migration. A key element is the position of healthcare labor recruiters as a node in the migration chain. A large part of her research consisted of an organizational analysis of a Czech recruitment firm in which she was embedded for almost a year.
Dr. Bludau considers herself a cultural anthropologist with specializations in medical and applied anthropology. Her theoretical and geographical interests include globalization and Europe, respectively.
She has recently started a project to examine the trope of nurse as "hero," as part of recent COVID-19 reactions.
Publications
Scholarly Articles
Multimedia
Presentations/Invited Talks
"Handmaiden No More." Society for Applied Anthropology Annual Meeting, March 20, 2019, Portland, OR
"(Re)Negotiating Professional Identity in Migrant Healthcare Workers: Flexibility and subjectivity as forms of resilience and adaptation." American Anthropological Association 117th Annual Meeting, November 18, 2018, San Jose, CA.
"Less Than a Nurse:" How interactions in healthcare settings (re)define professional identity." Society for Applied Anthropology Annual Meeting, April 3, 2018, Philadelphia, PA.
"Global Nurses: Complicating the Global Care Chain with Migrant Nurses." American Anthropological Association 116th Annual Meeting, November 30, 2017, Washington, DC.
"Off-campus excursions for deeper student learning and engagement." Society for Applied Anthropology Annual Meeting, April 1, 2017, Santa Fe, New Mexico.
Book Discussion: "Caring for a Living: Migrant Women, Aging Citizens, and Italian Families," discussant with the author, Francesca Deguili. Sponsored by the Center for European and Mediterranean Studies (New York University), December 9, 2016.
"Gendering Mobility: Migration of nurses as a nexus of transnational gender and labor ideals." American Anthropological Association 115th Annual Meeting, November 20, 2016, Minneapolis, MN.
"Gender Shocked: How migrant nurses renegotiate ideas of gender abroad." Society for Medical Anthropology Annual Meeting, March 30, 2016, Vancouver, BC, Canada.
"Hindered Care: Institutional obstructions to carework and professionalism in Czech nursing." American Anthropological Association 114th Annual Meeting, November 19, 2015, Washington, DC.
"The Value of Nursing." Society for Applied Anthropology 75th Annual Meeting, March 21, 2015, Pittsburgh, PA.
"Challenging Perspectives in Post-socialist Healthcare Migration: A Case Study of Czech Healthcare Professionals." Association for Slavic, East European and Eurasian Studies annual convention, November 21, 2014, San Antonio, TX.
"Encounters from the Edge of Nursing: An exploration of Czech nurses as 'global nurses.'" Joint international conference of the Society for Medical Anthropology, the European Association of Social Anthropologists' Medical Anthropology Network, and the Department of Anthropology, Philosophy and Social Work, Universitat Rovira i Virgili, June 13, 2013, Tarragona, Spain.
"The Power of Protocol: An evaluation of Czech healthcare from the perspective of return migrant nurses." 3rd Annual Health in Transition Conference, June 8, 2013, Warsaw, Poland.
"From the Golden City to the Golden Cage: How recruiters re/create a transnational labor market between Eastern Europe and the Middle East." Work in a Globalising World, 5th Annual Seminar of the Bielefeld Graduate School in History and Sociology, April 9, 2013, Bielefeld, Germany.
"The Culture of Disrespect in (Post)Socialist Healthcare from the Perspective of Czech Nurses." American Anthropological Association 111th Annual Meeting, November 16, 2012, San Francisco, CA.
"Producing Transnational Nurses: Agency and subjectivity in global health care labour migration recruitment practices." Paper Presentation, Friedrich Ebert Stiftung conference on Transnational Care Practices and Globalization of Life Cycle, October 15, 2010, Prague, Czech Republic.
"Recruiting Agencies: The Role of Recruitment Firms in Czech Healthcare Worker Migration." 102nd Gellner Seminar, sponsored by the Masaryk Czech Sociological Society and the Czech Association for Social Anthropology, October 22, 2009, Prague, Czech Republic.
Professional Associations
Additional Information
Courses
Frequently Taught Classes
Recently Taught Classes
2022 Summer B
2022 Spring
2021 Fall
2021 Summer E
2021 Summer C
2021 Summer B
2021 Spring
2020 Fall
2020 Summer E
2020 Summer B
2020 Spring
2019 Fall
2019 Summer E
2019 Summer C
2019 Summer B
2019 Spring