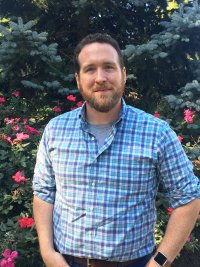 Ph.D., University of Michigan
B.A., Moravian College
Office

Wilson Annex 12

Phone

Email
Office Hours

Monday and Wednesday, 10:00 – 11:00 a.m.

Courses this Semester

EN 101 College Composition I

Regularly Taught Courses

EN 101 College Composition I

Research Interests

Research interests include political rhetoric, religion and secularism, democratic theory, American politics, and constitutional law.

Publications

Scholarly Articles

"Religious Faith as Political Praxis: Walter Rauschenbusch, Incarnational Religion, and the Social Gospel Cultus." American Political Thought, Vol. 7 No. 3 (Summer 2018): 432-63.

Review of Michael Walzer, The Paradox of Liberation: Secular Revolutions and Religious Counterrevolutions (Yale University Press, 2015), Contemporary Political Theory, Vol. 16 No. 3 (August 2017): 434-38.

Review of Matthew Scherer, Beyond Church and State: Democracy, Secularism, and Conversion (Cambridge: Cambridge University Press, 2013), Contemporary Political Theory, Vol. 15 No. 4 (November 2016): 462-66.

"A sublime and serious Religious Democracy: Walt Whitman and the Poetics of American Civil Religion" (Currently under review)

"The Faithlessness of the Faithful: Experiments in Political Pyrotheology" (Currently under review).

Works in Progress:

He is currently revising a book manuscript based on his dissertation, which investigates a tradition of American Christian thought that frames faith as inherently embodied, performative, and political. He is also in the early stages of a new research project that intervenes in the so-called "crisis of secularism" by reimagining secular politics outside of the increasingly challenged and problematic grammar of the separation of church and state.

Professional Associations

Sigma Tau Delta, Pi Sigma Alpha, Omicron Kappa Delta, Association for Political Theory, American Political Science Association, Northeastern Political Science Association, Western Political Science Association, Midwestern Political Science Association.