The JP Clark International Conference: Connecting the Glocal Literary Genres and Futures
The JP Clark International Conference:
Connecting the Glocal Literary Genres and Futures
University of Lagos, Nigeria. July 12 – 15, 2018
Co-Conveners:

Dr. G Oty Agbajoh-Laoye
Associate Professor
Department of World Languages and Cultures
Monmouth University
West Long Branch, NJ 07764
olaoye@monmouth.edu
Dr. Hope Eghagha
Professor and Chair
Department of English
University of Lagos
Lagos, Nigeria
heghagha@unilag.edu.ng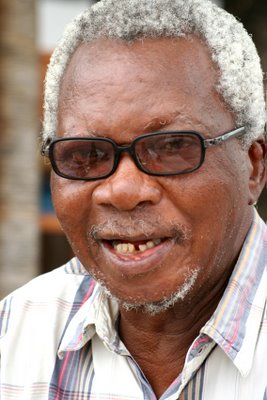 Theme: Connecting the Local and Global Across Literary Genres
In John Pepper Clark's literary repertoire (unabated from the 1950s to the present), we encounter a plethora of real and imaginative worlds—in Kiagbodo, Ibadan, Lagos, Soweto, London, and New Jersey. In this universe the pristine, unsoiled natural but human world of the Izon in the Niger Delta of Nigeria is the farthest from modernity and the metropolis, also constitutes constructive space where major global concerns intersect. The rampaged and destructiveness of the politics of representation, oil/petro-chemical industries, imperialism and capitalism, multinationals, irresponsible governance, the pseudo-modernity of contemporary Nigeria (read Africa) to sites outside the continent are captured in his work across genres. These creative and temporal locales are the real and metaphoric representative of the local-global, socio-cultural and political reach of J. P Clark's drama, poetry, oral narrative, and prose.
Proceeding from the immediate to the universal to capture the scope of J.P. Clark's literary oeuvre across two centuries, the conference will be structured around plenaries on the different genres—drama, poetry, oral tradition, prose, film, music, and virtual realities. This international conference invites contributions—Plenaries, Panels, Round Tables, and Papers that address a variety of themes, ranging from the indigenous and communal, to broader contemporary issues like the African Diaspora, Global Africa, the local and global, issues and dimensions across and within the micro and macro aspects of the writings of J. P Clark. We also encourage submissions that cut across genres and writers as well as focus on new media and ecocriticism.
Keynote Speaker:
Professor Wole Soyinka
Nobel Laureate, Playwright, Poet, Novelist, Essayist, and Social and Political Activist
Title of Lecture:
OTHELLO'S LAMENT: The MIGRANT RUES The WAVES
Plenary Speakers:
Professor Al-Bisahak – Nasarawa State University, Nigeria: "Before Thoth Was Tehuti: The Clarkson Greco-Roman Influences Were African."
Professor Thabisile M. Buthelezi – University of KwaZulu-Natal, South Africa, "Codeswitching JP Clark's and other African Literary Voices to African Languages for Social Integration in Africa."
Professor G.G Darah – University of Africa, Bayelsa State, Nigeria, "J.P Clark, Literature, and Revolutionary Pressures in the Niger Delta of Nigeria."
Professor Tony Afejuku – University of Benin, Nigeria:" JP Clark's Phenomenological Thoughts in Remains of a Tide."
Dr. Nduka Otiono, "From 'Paradise' to the Trysting Creeks:J.P. Clark-Bekederemo's Poetic Expeditions in Mortality."
Celebratory panel on JP Clark by his contemporaries and close associates:
Professor(s) Bayo Banjo, Dan Izevbaye, and Omolara Ogundipe, David Okpako, Niyi Osundare, Mrs. Francesca Emmanuel, Mr. Sesan Dipeolu, Mr. Ike Ikeugo and Mr. Tade Ipadeola and more.
The themes are not limited to the following:
Modern African Literature and JP Clark
Creativity Influences
Indigenous, Oral and Greek Sources across Genre
Modernity and African literature, Drama, and Performance
The African Identity, the Self and Outsider in African Performance and Politics Geography and Politics
Performance, Ideology and Politics
The Indigenous, Cosmopolitan and Modern
Ritualizing Experience; Society and Community
The Normative in Content and Context
Ritual, Norms and Taboo in Literature and Performance
Tradition and Change
Implications for Modern Living;
Managing and Marketing Performance in Africa
Translation, Transliteration, Orature, Narratology and Adaptation
Gender Issues: (De-) Re-Centering Women, Masculinity and Manhood
Children and Young Adults across Genres
Social and Ethical Issues
Beyond Africa and J P Clark, African Diaspora, and the rest of the World
Globalization in JP Clark's Artistry
JP Clark as Artist as Teacher and Conscience
Teaching Roundtables