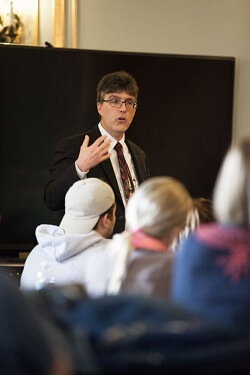 We believe that our role as professors is to provide students with rigorous experiences inside and outside the classroom. These experiences encourage students to think critically, challenge assumptions, broaden perspectives, cultivate new interests, and build a sense of ownership over their own intellectual journeys. We view our students as scholars who do not approach education as merely the accumulation of credits, the pursuit of a high GPA, or the memorization of facts. Rather, a university education is the foundation for a lifelong pursuit of knowledge, carrying with it the responsibility for civic engagement and working to improve one's world. We help all our students develop as scholars through diverse instructional approaches that encourage them to build skills in scientific literacy, distinguishing evidence from opinion, project organization and management, writing and public speaking, problem solving individually and collaboratively in groups, analyzing and summarizing quantitative data, and engaging with their communities. We especially take pride in our extensive, individual faculty-student collaboration where each of our professors works with,
supports, inspires, and empowers students' intellectual pursuits at Monmouth and beyond.
Our Curriculum
The defining characteristic of our major is that we do not focus on preparing students for a specific job or career. Rather we encourage students to explore the broad spectrum of opportunities within psychology. To facilitate this, our major emphasizes skill development and hands-on experiences rather than memorization of facts.
The following are employer-valued skills students acquire in our program:
Project Management Skills
Written Communication Skills
Oral Communication Skills
Critical Thinking Skills
Creative Problem Solving Skills
Time Management Skills
Interpersonal Skills
Information Gathering and Processing Skills
Data Analysis and Psychometric Skills
Data Presentation Skills
Adaptability to Changing Situations
Eagerness to Learn New Skills
Ability to Work as Part of a Team
Psychology majors at Monmouth are not only taught to understand the facts related to psychology, but they are also taught how to think critically and scientifically. They learn to analyze facts and develop a greater understanding of the world around them. Psychology students leave Monmouth with a new, informed perspective of the world and how to think about it.

–Britney Acquaire, Class of 2014
Curriculum and Course Information
Program Highlights