Bachelor of Arts in Political Science
The Bachelor of Arts in Political Science is ideal for students who want to gain an understanding in the fundamentals of early and modern political thought, American government, international relations, comparative political systems, legal studies, gender studies, public policy, and research methods. The program offers real-world opportunities for career preparation and skill building, including a semester-long internship in the nation's capital through the Washington Center. Students can also take part in legal and political internships, international service learning, Model United Nations, and policy debate.
Those with political science degrees typically go to law school or graduate school, and have successfully placed in careers in local, state, and national government agencies, non-profits, law enforcement, teaching, and private companies.
Concentration in International Relations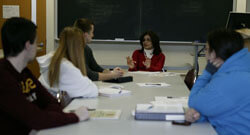 Students can also pursue a B.A. in Political Science with a Concentration in International Relations. Responding to the career possibilities and overall trend toward global exposure, this concentration focuses on enhancing knowledge in international affairs and foreign language skills, making students more well-rounded. In addition to the skill-building and career-preparation opportunities available to political science majors, this concentration seeks to prepare students who want to pursue careers in the U.S. Department of State and other international and foreign-policy-based organizations, lobbying, advocacy, human rights agencies, and so on.
Additional Information