Literature and Culture, 1914-1945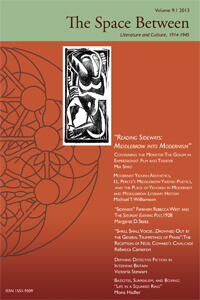 THE SPACE BETWEEN: LITERATURE AND CULTURE 1914-1945 is the journal of The Space Between Society and was founded simultaneously with the society at Reno, Nevada, in 1997. The first issue appeared in May 2000.
Like the Space Between Society, the journal is devoted to interdisciplinary scholarship on the period bracketed by the two World Wars. We are interested in approaches to texts of all kinds, emphasizing research on lesser-known writers and artists and understudied issues of the period, including literary and cultural responses to the First and Second World Wars. The journal is published annually by Monmouth University.
Additional support is provided by The Space Between Society. Please visit www.spacebetweensociety.org for more information on the Society, including announcements and forthcoming conferences.
We publish 5 to 6 articles and a number of reviews per issue. All articles will go through a peer review process and each author will receive anonymous referee reports. Papers presented at the Space Between annual conferences will also be considered for publication.
Every other issue of THE SPACE BETWEEN: LITERATURE AND CULTURE 1914-1945 is on a special topic and features a guest editor or editors.