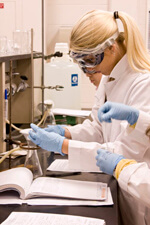 The Minor in Chemistry is designed to ensure that students complete a well-rounded distribution of coursework so that they can explore and deepen their knowledge of all of the foundation areas of chemistry.
The minor follows guidelines for chemistry minor programs established by the American Chemical Society, and ensures a breadth of laboratory experiences that students will be able to carry with them into a variety of related fields. These skills are particularly important for students interested in pursuing careers in biotechnology or environmental science.
According to University policy at least 9 of the credit hours required for a minor must be earned outside a student's major. Students majoring in biology will complete many of the required courses for the Minor in Chemistry as requirements for their degrees.