The Department of Biology is staffed with faculty members who are more than just impassioned mentors and educators; they are well respected leaders in their field. Many of the faculty engage in research. Below is a sampling of some of the varied areas in which Monmouth biology professors apply their theoretical knowledge in the practical world.
Hicks Lab Research Focus:


Gene Therapy and RNA Therapeutics for the Treatment of Brain Cancer
Dr. Martin J Hicks, Assistant Professor
Our lab is developing strategies to deliver the genetic sequences of RNA molecules directed against transcripts and proteins involved in cancer. Current strategies include the use of anti-sense RNA molecules to alter pre-mRNA splicing and natural miRNA structures to modify the expression of RNAs and proteins of the brain tumor microenvironment.
Kubera Lab Research Interests:


Cell Signaling Influence on Neuron Development
Dr. Cathryn L Kubera, Assistant Professor
Neurons go through several phases during development: proliferation, differentiation, migration, integration and survival. Many signaling factors, both outside and inside the cell, contribute to the success of overall neuronal maturation. The goal of the projects in the Kubera Lab is to identify the varying roles of signaling factors and characterize how they contribute to the various phases of brain cell development. We are currently focusing on two different molecules: mTOR and GABA. We use a variety of cell and molecular techniques combined with microscopy and live cell imaging to assess the molecular interactions involved in regulation of these processes.
Kubera Lab Website: ckubera.wix.com/mu-cell-neuro-lab
Three Research Objectives of Dr. Daneshgar's Lab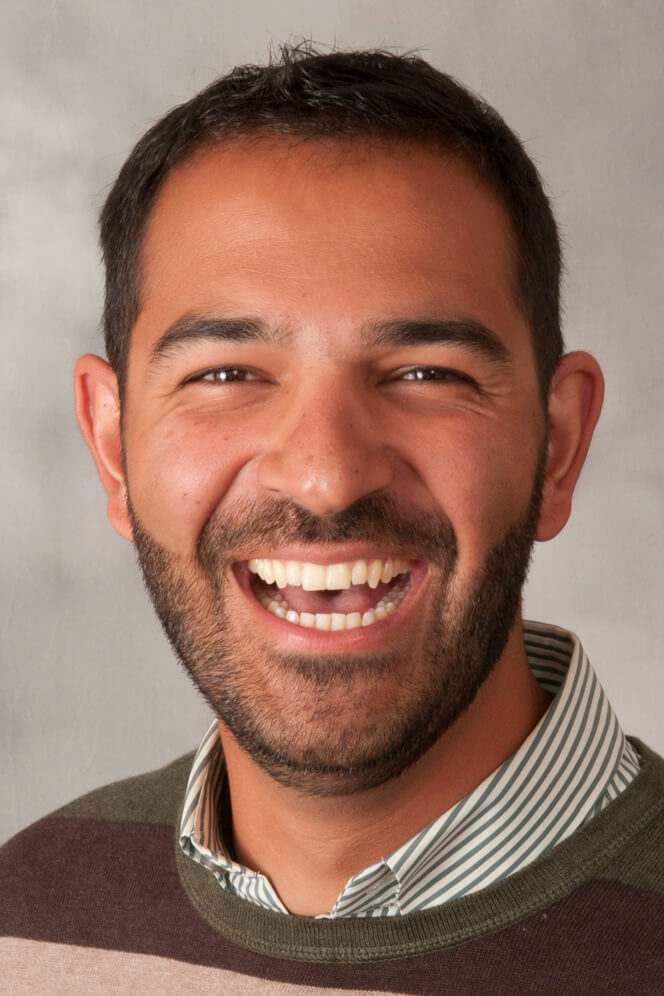 Dr. Pedram Daneshgar, Assistant Professor
Pedram Daneshgar is a broadly trained plant ecologist with experience in variety of terrestrial and coastal ecosystems. Research in Dr. Daneshgar's lab has three objectives:
understanding the impacts of invasive plant species on communities and ecosystems
exploring the mechanisms that drive and maintain biodiversity in plant communities
examining the role of coastal plant communities in the global carbon cycle and how climate change will affect these roles.
Research in his lab addresses these objectives in the coastal systems of New Jersey, in prairie lands of Texas, and in the mangrove ecosystems in The Bahamas with the restoration and conservation of these ecosystems as the ultimate goal.
Population Dynamics and Conservation of the Federally Endangered Atlantic Sturgeon
Dr. Keith J. Dunton, Assistant Professor
My lab largely focuses on population dynamics and conservation of the federally endangered Atlantic Sturgeon. Atlantic Sturgeon exhibit broad-scale movements among rivers and coastal environments with periodic aggregations that lead to incidental captures in near-shore coastal fisheries and increases their vulnerability to other negative anthropogenic interactions (e.g. dredging activities, construction projects, utilities development). To best manage human activities in a way that promotes recovery, the understanding of Atlantic sturgeon population dynamics and habitat associations is required. My research is management driven with current work focusing on using acoustic telemetry as a tool to identify Atlantic Sturgeon movements and habitat use, survival modeling, and behavior/interactions with nearshore gillnets. I also examine Atlantic Sturgeon diet preference and prey selectivity in aggregation areas as well as their population structure by using genetic tools and age/growth analyses. Upcoming projects will focus on other species of immediate conservation need, including inshore Winter Flounder populations and coastal sharks.
Combating Multidrug-Resistant Bacteria in Health-Care Settings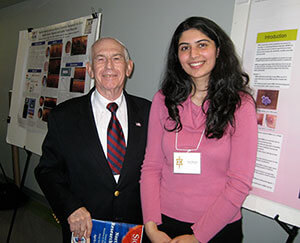 Dr. James P. Mack, Professor
I have been researching the efficacy of essential oils and methylglyoxal as antibacterial agents against multidrug-resistant bacteria for fifteen years. Presently, I am focusing my research on the development of topical emollients of essential oils and methylglyoxal in carrier oils to combat multidrug-resistant bacteria to be used in health-care settings.
Recent Publications
Rosenblum, J. S., Rosenblum, B., Pant, H., Mack, J.P., Schreiber, W. 2017. Cdk5 and Catalase: Interaction of Neuronal Regulation Systems. NOVA Science Publishers, Chapter 8, Advances in Medicine and Biology. Vol 121, 173-198.
Grullon, J., Mack, J.P. Rojtman, A., 2016.Using Essential Oils to Combat the Threat of Multi-Drug Resistant Bacteria, Pseudomonas Aeruginosa. Int J Pharm Pharm Sci, 8 (12), 180-183
Cieslak, E., Mack, J.P., Rojtman, A., 2016. Essential Oils and Methylglyoxal: A Possible Alternative Treatment for Antibiotic Resistant Bacterial Infections. Int J Pharm Pharm Sci, 8 (9), 107-110
Qureshi, W.K., Palayekar, V., Dyan, E. Mack, J.P., Rojtman, A., 2015. Combating the Antibiotic Resistance Threat. Int J Pharm Pharm Sci, 7 (2), 68-72.
Sharma, P., Mack, J., Rojtman A., 2013. Ten Highly Effective Essential Oils Inhibit Growth of Methicillin Resistant Staphylococcus aureus (MRSA) and Methicillin Sensitive Staphylococcus aureus (MSSA). Int J Pharm Pharm Sci, 5 (1): 52-54.
Signaling pathways controlling cell growth and apoptosis

Dr. Dottie Lobo, Associate Professor
Signaling pathways need to be tightly controlled to insure that cellular proliferation occurs when needed (for example, during times of wound healing and growth). Our work focuses on the negative regulation of signaling pathways involved in growth control, and how negative regulation of proliferation and apoptosis are aberrantly controlled in cancer. Current research is also focused upon the upstream receptors that control signaling pathways during cell-cell contact, and the differences in the regulation of these receptors in cancer cells and normal cells. We are overexpressing a variety of signaling proteins in cultured cells to determine their potential roles in migration, proliferation, and protection from apoptosis. Students participate in all aspects of this research.
Innate Immunity and Antimicrobial Properties of Male Reproductive Organs

Dr. Michael Palladino, Vice Provost for Graduate Studies, Professor, Biology
Damage to spermatozoa as a result of bacterial, yeast, and viral infections of male reproductive organs is known to contribute to male infertility. Yet, relatively little is known about the mechanisms that male reproductive organs use for antimicrobial protection.
Dr. Palladino and Dharm Patel examining a gel image of proteins involved in inflammatory response.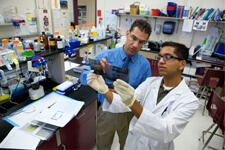 The Palladino Lab studies the role of Toll-like receptors (TLRs) in innate immunity of male reproductive organs. TLRs are important mediators of "pathogen-sensing" in innate immune responses and inflammatory actions, and they also play critical roles in adaptive responses to microbial challenge. TLRs comprise a large, evolutionarily conserved family of receptors that mediate innate immunity in a wide range of organisms. Signal activators for TLRs include both gram-positive and gram-negative bacteria, as well as bacterial components including bacterial flagellin, lipoproteins, peptidoglycans, CpG bacterial DNA, and lipopolysaccharides. When activated, TLRs trigger molecular cascades that in turn activate an array of inflammatory responses such as activation of NF-κB as a master regulator of inflammation followed by subsequent release of cytokines, chemokines, and other inflammatory regulators. The goal of our project is to characterize expression patterns for TLRs in male reproductive organs and to examine TLR activation pathways. Students participate in all aspects of research.
Environmental Microbiology and Genetics of Microbiological Degradation

Dr. Karen Pesce, Lecturer
The presence of pharmaceutical and personal care products in the environment is of increasing concern; little is known about the possible long-term effects of exposure to these compounds and their bioactive metabolites.
Our work focuses on isolation and investigation of microbial species that can degrade these compounds, which are integral to developing strategies for remediation. Current research includes identifying and characterizing novel microbial genes responsible for degradation of environmental pollutants and molecular profiling of microbial communities. We have isolated bacterial species with the ability to degrade caffeine, N,N-Diethyl-3-methylbenzamide (DEET), ibuprofen, naproxen, and phthalate. Further characterization of these isolates is underway. Students participate in all aspects of this research.
Neuropharmacology of Adolescent Alcohol Abuse

Dr. Dennis Rhoads, Professor
My laboratory models various aspects of adolescent alcohol abuse and the co-use of alcohol and other drugs (e.g., caffeine) as it affects alcohol dependency. Adolescence is a time when many people have their first experience with alcohol and use of alcohol during adolescence may trigger brain changes driving lifelong problems with alcohol abuse.
Janine Mallari (left) and Carlos Rivera (right) displaying nerve-ending fractions prepared by subcellular fractionation of alcoholic brain tissue.
Darsi Pitchon (B.S. Biology, 2009)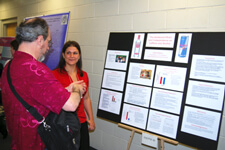 Darsi Pitchon (B.S. Biology, 2009) impresses the judge on her way to an award for best poster at the 2009 Eastern College Science Conference. Darsi presented results on alcohol/caffeine co-addiction, impresses the judge on her way to an award for best poster at the 2009 Eastern College Science Conference. Darsi presented results on alcohol/caffeine co-addiction.
The still-developing brain of adolescents provides a unique combination of targets for alcohol and other drugs. We use a number of different approaches to understand the development of dependence upon alcohol and other drugs and to assess genetic differences that impact susceptibility to developing dependence. These include measuring behavioral responses to acute and chronic drug exposure, monitoring drug consumption and metabolism, and determining levels of specific brain proteins, particularly receptors that are targets for alcohol and other drugs. We are interested in how genetic differences in the starting levels of these proteins affects dependency and also in how these targets change as the adolescent brain adapts to the presence of alcohol and/or other drugs. In this setting, students learn various techniques in neuropharmacology (e.g., drug effects on motor activity and anxiety via computer-controlled activity chambers) and biochemistry (e.g., protein analysis by Western blotting). Examples of recent journal publications with students(*) are:
Chung, C.S., Wang, J., Wehman*, M. and Rhoads, D.E. 2008. Severity of alcohol withdrawal symptoms depends on developmental stage of Long-Evans rats. Pharmacology, Biochemistry and Behavior 89, 137-144.
Rhoads, D.E., Huggler*, A. and Rhoads*, L.J. 2011. Acute and adaptive motor responses to caffeine in adolescent and adult rats. Pharmacology, Biochemistry and Behavior 99, 81-86.
Monmouth County Beach Nesting Bird Monitoring and Stewardship Program
Professor John Tiedemann, Interim Dean, Director of the Marine and Environmental Biology and Policy Program (MEBP)
The beach nesting bird monitoring and stewardship program is one of the projects based in the Tiedemann lab. This program focuses on birds like the piping plover, the least tern, and the greater oystercatcher. The piping plover, a small sandpiper-like bird, nests on coastal beaches from Newfoundland and southeastern Quebec to North Carolina. Once common along the Atlantic coast, piping plover populations were decimated by hunting for the millinery trade in the early twentieth century. Passage of the Migratory Bird Treaty Act in 1918 stopped the hunting of these birds and the Atlantic coast population recovered to some extent. Unfortunately, in the past several decades, the population has declined dramatically as a result of disturbance of nesting habitat and breeding conditions. more…