2019 Art and Design students recognized for awards
From left: Michael Gatta, Sarah Snow, Pasquale Dorsi, William Foster, Nicki Robibero, Andrew Cohen (Dept. Chair), Megan McClintock, Sierra Stanton, Emily Filippo
Art and Design Career Day – April 18th, 2019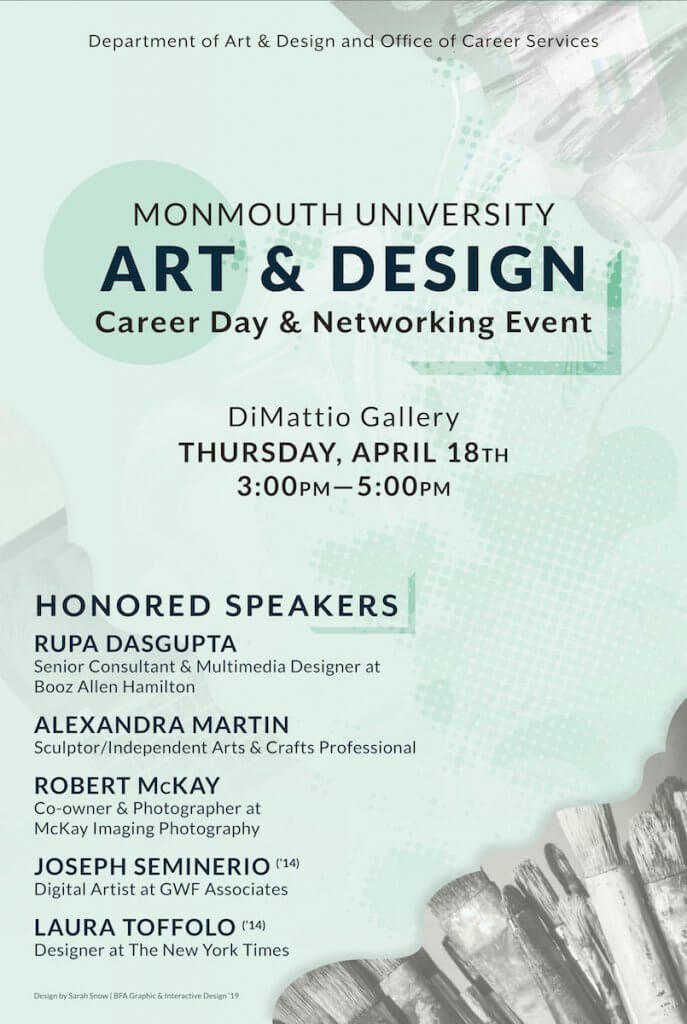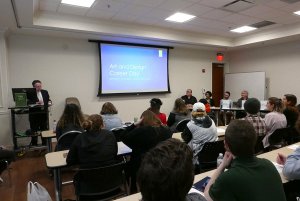 Honored Speakers (surnames in alphabetical order)
Rupa DasGupta 
Senior Consultant and Multimedia Designer at Booz Allen Hamilton
Alexandra Martin
Sculptor/Independent Arts and Crafts Professional
Robert McKay
Co-owner and Photographer at McKay Imaging Photography
Joseph Seminerio ('14)
Digital Artist at GWF Associates
Laura Toffolo ('14)
Designer at The New York Times
Dr. Corey Dzenko's Presentations at Two International Conferences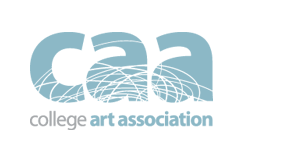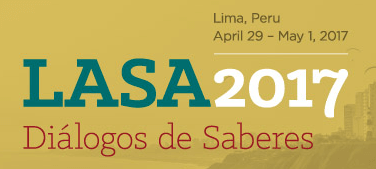 In February of 2017, Dr. Dzenko will present her paper "Walking on the Grass: Using Campus as Source Material" at the College Art Association conference in New York City. Dzenko's presentation will be part of the pedagogical laboratory "The State of Art (History)." In April, she is presenting her paper "Presenting the Past to Change the Future: Dora Longo Bahia's Contemporary Art Practice in Brazil" at the Latin American Studies Association Annual Congress in Lima, Peru. Her panel looks at various artistic approaches and strategies of modern and contemporary artists who are women in Latin America. 
Professor Tom Baker's Print in International Biennial
Professor Baker's work titled "Burn Bank: Two" will be included in the 2017 Wheaton Biennial "Printmaking Reimagined" (March 1–April 10).
The 2017 Biennial will focus on fresh directions in printmaking and will examine what constitutes a print today, particularly in light of new methods and technologies. The Juror, Andrew Stein Raftery who trained in painting and printmaking at Boston University and Yale, was elected to membership in the National Academy in 2009 and is Professor of Painting at Rhode Island School of Design. The 2017 Biennial received nearly 700 submissions from all over the US and abroad, 67 individual works were selected.
Professor Kimberly Callas's Artwork in Two Exhibitions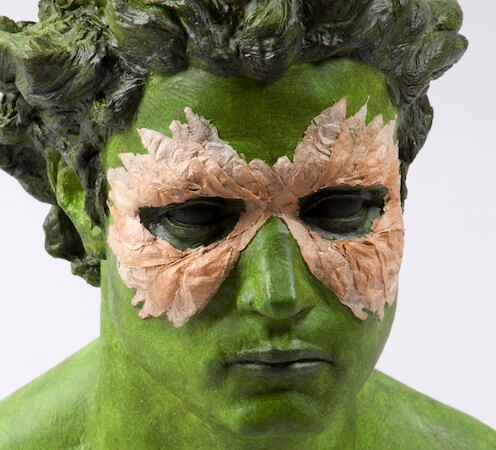 Professor Kimberly Callas' new bronze work: "The Sea from Whence We Came", (Bronze, 34" X 16" X 14"), will be on exhibit at The Mount Desert Island Biological Laboratory (MDIBL) in Maine through March 2017. Callas was the collaborating artist with zoologist James Coffman, Ph.D.. For more on the project, including images of artwork and Dr. Coffman's statement on the project, see: http://kimberlycallas.com/Portfolio/how-we-carry-forward-2/
Callas' sculpture, "Green Man", was part of the Catharine Lorillard Wolfe Art Club's 120th International Annual Open Juried Exhibition. This all woman exhibit benefits The Metropolitan Museum of Art Travel and Research Fund of the American Wing.
Students Study in Berlin During the Spring Break in 2017
Art in Berlin/Postdam is a two-credit special topic travel-drawing course designed for Spring Break in March. Students will live in Berlin for the duration of Spring Break and will make notations and drawings in situ, and take photographs of the surroundings. When students return to Monmouth they will be responsible for the completion of six finished drawings culled from all of the above-mentioned visual research. Professor DiMattio will work with the students individually until the portfolio is complete, and then they will be graded.
Professor Wobbe Koning's Work in Exhibitions and Screenings
Professor Wobbe Koning's 3D printed sculpture "Frozen.Motion(2)" is included in the juried show "Materialized" at the University Gallery of Central Michigan University. The show is on display from January 12 to February 11, 2017.
In December of 2016 Wobbe's video City.Flow() was once again broadcast on ikonoTV (ikonotv.art, a free art stream for internet and SmartTV), this time as part of a curated selection of the Enhanced Vision SIGGRAPH Digital Arts Community on-line show.
Professor Mike Richison's Work in Exhibitions and Conferences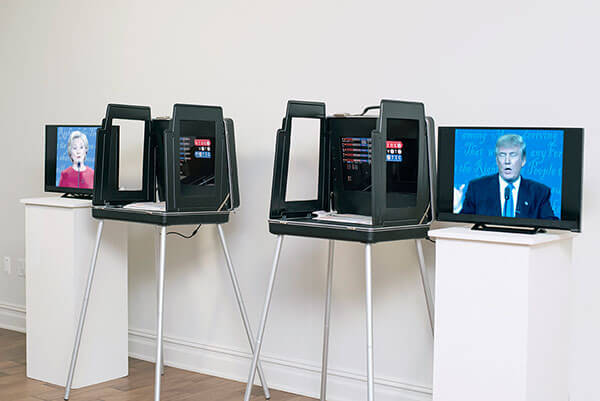 Mike's sculptures will be featured in the following exhibits: 
Materialize, University Art Gallery, Central Michigan University, Mount Pleasant, MI
Future Now (Two person exhibit), FRG Objects and Design/Art, Hudson, NY
Mike's interactive piece "Video Voto Matic" was featured in the following exhibits and conferences: 
Art in Politics, Touchstone Gallery, Washington, D.C. 
Art in Odd Places, New York, NY 
IEEE VIS 2016 Conference: VIS 2016 Arts Program, Baltimore, MD, 
4th International Association for Visual Culture Biennial Conference: The Social, Boston University, Boston, MA
"Video Voto Matic" was picked up in the following press outlets: 
WABC-TV Channel 7, New York, abc7ny.com/politics/rock-the-vote-with-video-voto-matic/1585976/ 
The Creators Project, www.thecreatorsproject.vice.com/blog/drum-machine-hillary-debate-speeches 
Create Digital Music, www.cdm.link/2016/10/mash-808-us-elections-no-one-asked/ 
FACT Magazine, www.factmag.com/2016/10/14/vintage-voting-booth-drum-machine/
Professor Mark Ludak's Work in Photography Competition
Professor Mark Ludak's photograph "Ellis Island – Skyline" was a finalist in the National Trust for Historic Preservation's photography competition, Preservation 50 in 2016.
Professor Kimberly Callas's Artwork in National Juried Exhibitions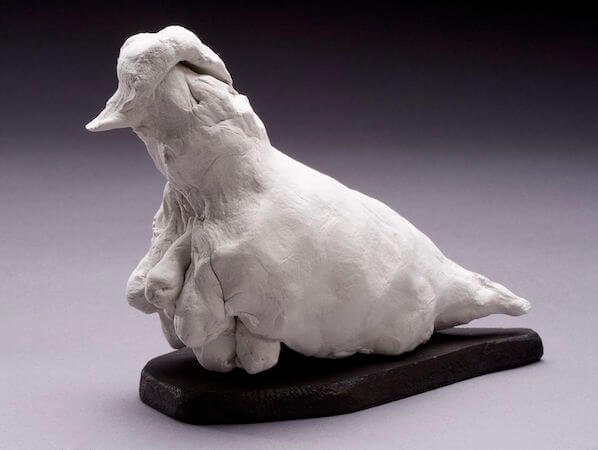 In 2016, Professor Kimberly Callas exhibited nationally in exhibits that focused on themes of spirituality and the body. Exhibits included, "Concerning the Spiritual," at the Foundry Art Center in St. Charles, MO where Callas exhibited "The Beekeeper's Wife and The Many Breasted One." In Louisville, KY, Callas' work "Anima," was part of "The Enduring Figure" at Kaviar Gallery. Callas was a featured artist at Slayer Gallery for "Biomorphic Yearnings" in Fredericksburg, VA. In the exhibit, "Great Spirits," at the Nails in the Wall Gallery, at St. Luke's in Metuchen NJ, Callas exhibited the sculpture "Birchbark Breathing," a sculpted bust with birch bark 'skin', and in "Dream or Nightmare" at the Metro Space Gallery at Michigan State University, Callas exhibited a 16 foot re-purposed piano roll of a 16' foot dreaming figure titled: "Bring Me a Dream." For more information and images, visit: http://kimberlycallas.com/blog/ 
Professor Jing Zhou's Work in International Biennial and Museum Collection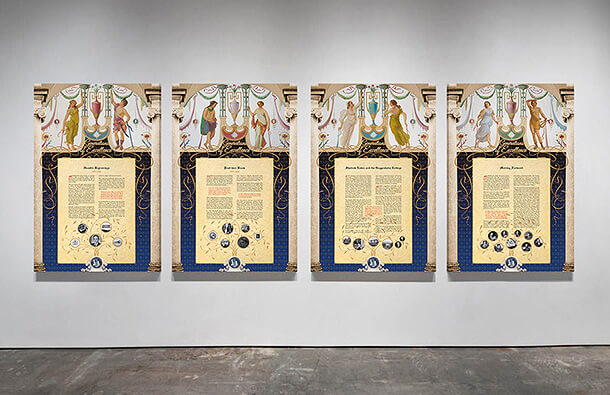 From June 16 to October 30, 2016, Professor Jing Zhou's design project "Generations of Excellence—Monmouth University History Panel Series" was exhibited at the 27th Brno International Biennial of Graphic Design in the Moravian Gallery in Brno, Czech Republic. 46 submissions by 68 authors from 15 countries were selected out of 878 submissions by 1222 authors from 53 countries.
This panel series is now part of the Graphic Design Collection of the Moravian Gallery, the second largest art museum in the Czech Republic.
Professor Tom Baker's Artwork in International Juried Exhibition
Professor Tom Baker's two 3D modeled, laser cut, Silkscreen prints—"Winter Time" and "Crown House"—will be included in the "2016 Screenprint Biennial," a traveling show that starts at The Arts Center of the Capital Region Troy NY in the fall of 2016 and will travel to the Center for Contemporary Printmaking in Norwalk CT in January 2017. Professor Baker is one of 35 artists that have been selected from a pool of 220 applicants with submissions coming from 7 different countries, representing a diverse cross section of artists. Curator: Nathan Meltz, Lecturer in the Department of the Arts at the Rensselaer Polytechnic Institute.
Professor Mark Ludak Awarded 2016 Puffin Foundation Grant for Photography
Professor Mark Ludak photographic project " With Our Eyes Closed" was selected from a national pool of candidates for funding from the Puffin Foundation. His project do date encompasses daily life in Mississippi, coverage of the Ku Klux Klan, and the mass shooting in South Carolina. The Puffin Foundation awards grants to artists, performers, and advocacy groups that are involved in social activism. These awards have gone on to support The Nation Magazine, "Democracy Now!', Doctors Without Borders, and other individuals and groups that advocate for social justice.  
Dr. Corey Dzenko's Presentations at Two International Conferences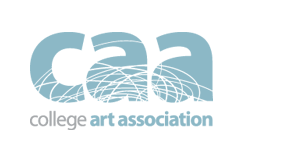 In February of 2016, Dr. Corey Dzenko will present her paper "Dirtying Suburban Space: Gregory Crewdson's Twilight and Beneath the Roses" at the College Art Association conference in Washington, D.C. In April, she is presenting her newer work about contemporary art in Brazil with the paper "Mixing Fiction and Reality and Believing in Lies, Making Them Come True: Dora Longo Bahia Archives History in 'Do Campo a Cidade' (2010)." She has been accepted to deliver this second paper at the Association of Art Historians conference in Edinburgh, Scotland.
Professor Wobbe Koning's Animation in a National Juried Exhibition
Professor Wobbe Koning's animation "Scatter Brain Matter, or the Evolution of Mankind" was accepted into "A Curious Reality," a National Juried Exhibit at Union Street Gallery. Exhibition Dates: Feb 24- Mar 26, 2016 The gallery is located in Chicago Heights, IL.
Professor Tom Baker's Artwork in a National Exhibition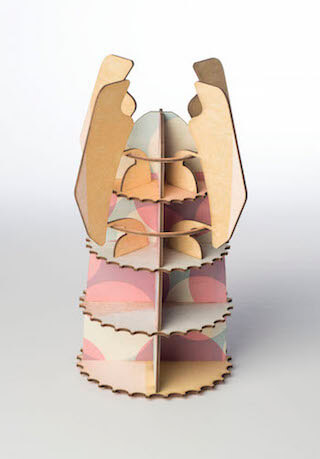 Professor Tom Baker's work "Springtime"—a 3D modeled, laser cut, silkscreen and relief print—was included in 5th 12 x12: A National Exhibit of Small-Scale Works of Art in the Todd Art Gallery at Middle Tennessee State University in January–February, 2016.
Curator: Armon A. Means, Assistant Professor of Photography, Coastal Carolina University.
Dr. Andrew Cohen Won the Third Place on Photocrowd
In January 2016, Dr. Andrew Cohen won the Third Place of the "Places of worship" photo contest on Photocrowd (Expert category).
Professor Mark Ludak selected for "Evidence and Advocacy: Photography's Role in Affecting Social Change"
Photographs from Prof. Ludak's series dealing with racial and ethnic hatred was selected for inclusion in the national exhibition "Evidence + Advocacy" at the Photographic Resource Center of Boston University. The exhibition theme was on photography's role in affecting social change and was on view from November 5, 2015-January 10, 2016 as part of the Society for Photographic Education's Northeast Regional Conference. Prof. Ludak's photograph " Guns Down" was chosen to promote the exhibit. Jurors : Maria Madalena Campos-Pons, Bruce Myren, Camilo Ramiez.