Matt Vazzana, Class of 2019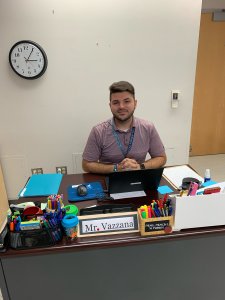 Education
B.S. in Mathematics and Secondary education
Employer
Freehold Township High School, Freehold, NJ
What I Do
I am currently a full time teacher of Mathematics at Freehold Township High School. Specifically, I work with disadvantaged students who are in need of extra assistance throughout their mathematics courses. Also, I am continuing my education at Monmouth and will receive my master's degree in Special Education in May 2020.
The Role of Mathematics
Mathematics has always been something that has peaked my interest. From taking introductory courses, such as Calculus 1, to my last math course in Real Analysis, Monmouth has given me the tools to not only problem solve and think critically about math, but also in real life situations. Because of the amazing faculty and staff in the Math Department, I have been able to achieve all of my goals and find success in my career path. Now, it is my turn to share with all of my students the passion for Mathematics that Monmouth University has given to me.
My Background
I attended Monmouth University, as an undergraduate, from 2015 through 2019. From day one I knew that Monmouth was the place for me. From the beautiful campus to small class sizes, Monmouth was a perfect fit! I was a member of Monmouth University's Pep Band as well as a member of the Honors School. In addition, I was a peer tutor at the Mathematics Learning Center where I was able to assist math students understand important ideas and concepts from their classes. In my senior year, I was awarded the Merit in Mathematics award and also completed my capstone thesis for the Honors School.