STEM Up
Math Day
Math Day will be held on Tuesday, April 25, 2023. It is a program dedicated to sharing mathematics with either middle school or high school students that would not ordinarily be seen in their standard curriculum. The lessons and activities are a fun and engaging look at mathematics. After the presentations, visiting students, their teachers, Monmouth students, and participating faculty have the chance to engage with each other. The day wraps up with lunch and a tour of Monmouth University.
Participating schools:
Bay Head Elementary, contact Maria Will
Long Branch Middle School, contact Ms. Margaret Barton
Ocean Township Intermediate, contact Ms. Amanda Pollard
Interested in being a part of this program? Please feel free to email Dr. Sandra Zak, szak@monmouth.edu, or Dr. Johnny Pang, wpang@monmouth.edu.
Fall Math & Cookies Presentation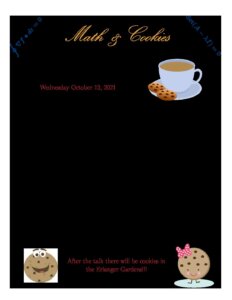 This semester, the Math & Cookies seminar (featured six of our very own mathematics students who participated in the 2021 Summer Research program under the mentorship of Dr. Susan Marshall. The students are rising seniors Alicia Caravella, Thomas Gresco, and Emily Malool and rising sophomores Jacqueline Aquino, Brooke Tortorelli, and Antonio Vinagre. The title of their talk was "Is Every Heronian Quadrilateral a Lattice Quadrilateral?" It was great to be back in person!
Odalys Barrientos Earns Summer Internship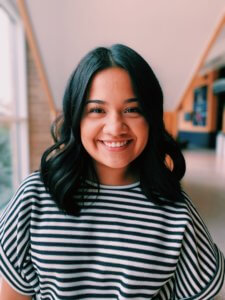 In the summer of 2021 Odalys Barrientos will be part of the Boston University Summer Institute for Research Education in Biostatistics (SIBS). In the two-month program Odalys will learn the principles of applied biostatistics from experts in the field. She will meet practicing biostatisticians, epidemiologists, infection disease specialists, and statistical geneticists and learn about their work. At the end of the program, she will present her group research project with her group members and faculty mentors. This will be a great opportunity for hands on experience and to explore a growing field.
Spring Math & Cookies Presentation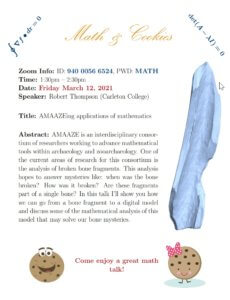 This semester, the Math & Cookies took place on March 12.
Robert Thompson from Carleton College talked about "AMAAZEing applications of mathematics" focusing on applications in archaeology and zooarchaeology.
We had about 25 participants coming mainly from computer science, math, and anthropology.
Virtual Events Bring the Department Together This Fall
Faced with a socially-distanced semester, the Math Department decided to bridge the gap that many students and faculty have been feeling since the March shift to mostly online learning began by holding three virtual events. Aimed at bringing our department together for both socializing and learning, the Welcome Back party, Internship and Grad School panel, and Math & Cookies guest speaker were very well attended. On September 17, a strong showing by our first year students at the Welcome Back Party made for a fun night of introductions as well as a trivia contest. After Dr. Coyle "graded" the submissions of the four teams, we decided to give all students in attendance the prize–an MU Mathematics drawstring bag! On September 30, Dr. Bastian and Dr. Gallagher gave an informative presentation to a great group of upperclassmen about finding and applying for internships, as well as all the nitty-gritty of deciding about and applying to graduate school. Finally, on October 14, we welcomed back Dr. Zak Kudlak, our former colleague who now teaches at the United States Coast Guard Academy, for Math & Cookies. This series, organized by Dr. Valiquette, had its largest turnout for this session with Dr. Kudlak as he took us on "A Recursion Excursion."