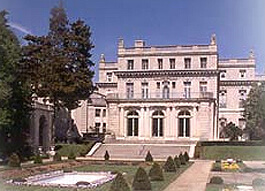 The Mathematics Department at Monmouth University is a community of learners and teacher-scholars, which has as its mission to help all its students gain an appreciation of mathematics, both as a science and as a humanistic study. Their study of mathematics helps provide students with a foundation for life long learning, critical thinking, and collaborative, technical problem solving in professional and business contexts. We achieve this through an innovative curriculum, which has students explore mathematics not only for its own sake but also for the myriad ways it is used in the modern world.
Our mission has three major objectives:
I. To provide our majors with sufficient understanding and experience of mathematics to pursue their careers or graduate study of mathematics.
This involves helping students develop:
an adequate knowledge of mathematics to enable students to pursue a mathematical career
the ability to reason mathematically, both formally and intuitively
the ability to read, discuss, write about, and orally present mathematics
the ability to work both independently and collaboratively on mathematical problems
the ability to use contemporary mathematical software
an appreciation that mathematics is a constantly developing field with interrelations both within mathematics and with human culture and science
II. To provide students in other programs using mathematics with robust mathematical tools they can use immediately, together with an understanding sufficient to grasp future quantitative developments in their fields.
Toward this end, the department is committed to ensuring that its courses:
impart to these students the mathematical knowledge and skills (including use of appropriate technology) necessary for success in their program and future careers
maintain the program-specific applicability of these courses, by consulting with faculty from the appropriate disciplines and by monitoring student development of knowledge and skills within the application area
III. To enable students in other majors to gain a greater level of quantitative literacy as part of a foundation for lifelong learning and critical thinking, so that they can more fully participate in the deliberations of an advanced technological society.
Toward this end, the department is committed to providing a variety of courses designed to help students:
acquire an understanding of mathematics and statistics, including their use and abuse
become quantitatively literate citizens