Academics
Updated: Thursday, March 25, 2021
Academic Calendar
The University will proceed with the planned fall calendar, opening on Tuesday, September 8, 2020 and concluding on Tuesday, December 22, 2020. The fall and Thanksgiving breaks will remain on the calendar, as scheduled.
The Fall 2020 academic calendar can be found online. Registration information for the 2020-2021 academic year can be found on the Office of the Registrar website.
Academic Delivery
Academic instruction and support will be delivered through a blend of in-person, hybrid, and online coursework. This mix of delivery methods offers increased flexibility for students, enhanced health and safety protocols for all members of our community, and as much accommodation as possible for physically distanced classes on campus.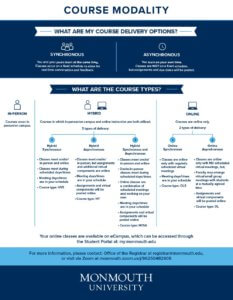 In addition to in-person courses taught on campus, a number of additional course delivery modalities will be offered. Hybrid courses, in which a mix of online and in-person instruction are utilized, will have three types of delivery:
Hybrid Synchronous (HYS): course will be taught with both in-person and online modalities delivered as synchronous meetings.
Hybrid Asynchronous (HY): classes will meet in-person on scheduled days/times, but assignments and additional virtual components will be offered online asynchronously.
Hybrid Synchronous and Asynchronous (HYSA): both in-person and online meetings, as well as assignments and additional virtual components, will be carried out through a combination of synchronous and asynchronous modalities.
Online-only courses will have two types of delivery:
Online Asynchronous (OL): course will be taught online with no scheduled synchronous virtual meetings. Faculty may arrange small group meetings with students at a mutually agree time. Assignments and virtual components will be posted online.
Online Synchronous (OLS): course will be taught online with regularly scheduled meeting times in which the entire class meets together.
To ensure high-quality remote delivery, the University has offered training in online delivery to our faculty–including through our Summer Online Academy–to enhance faculty expertise in delivering content remotely with a focus on student learners and their academic success. Ongoing support will be provided through the Center for Excellence in Teaching and Learning, Instructional Technology, and the broader resources of Information Management.
In addition, the University has invested significantly in enhanced audio-visual instructional technology to support faculty in offering interactive and engaging lectures, small group interaction, and active learning through a variety of remote instruction learning platforms.
Students will have full opportunity to approach, communicate, and meet with their professors for advising appointments, drop-in consultations, feedback sessions, and office hours through a mix of remote and in-person opportunities.
Monmouth University faculty and staff are fully committed to supporting our students, ensuring that each student has a quality, personalized academic experience. In order to preserve the personalized attention that remains a hallmark of a Monmouth education, many classes will be smaller than usual, with fall undergraduate classes averaging just 18 students per class.
For those courses delivered in-person, physical distancing will be implemented in all classrooms, workplaces, and areas of congregation, both indoors and outside. The University has established a number of public health-based protocols that will be followed in these spaces.
Academic support services through the Center for Student Success including advising, tutoring, and career services, as well as services to accommodate students with disabilities, will remain available throughout the semester in a combination of in-person and virtual sessions, which students can access at any time.
Students who have questions regarding their course schedule are encouraged to contact their department chair, academic advisor, or school dean. Students are encouraged to log in to WebAdvisor to check their course schedules and delivery modalities.
For more information on services available to students, please visit Academic Support Services and the Center for Student Success. The Department of Disability Services for Students can be contacted at 732-571-3460 or dds@monmouth.edu.
The full Health and Safety Guidelines to be followed can be found on the Health and Safety Measures section and the Fall 2020 Reopening Plan is available online.
Flexible Grading Policy – Undergraduate Students
We will continue to use a flexible grading system through the Spring 2021 semester (effective from Jan. 22, 2021 through May 14, 2021.) for undergraduate students. At the conclusion of the semester, faculty will award standard letter grades to students for their work. Once standard letter grades are posted, undergraduate students may choose to have a maximum of (4) credits of their standard (A to D-) grades recorded as Pass (P). Once changed, Pass (P) grades are not reversible, and students may not request the grade to be reverted back to the standard letter grade. Pass (P) grades do not positively or negatively impact GPA; they have no effect on GPA.
Policy Application:
The required e-FORM is titled, Flexible Grading Spring 2021. The deadline for submission is May 14 at 11:59 p.m.
Grades originally given as an Incomplete (I) for Spring 2021 may be changed to Pass (P).
Academic Standings (Academic Probation and Dean's List) will be determined prior to changing grades to Pass (P).
Flexible Grading for graduate students will not be extended through Spring 2021.
Please review the full flexible grading policy updates and details.
Research, Internships, and Clinical Fieldwork
Fall internships and clinical fieldwork will be available upon approval by the student's faculty advisor and site supervisor. Students, please contact your advisor for additional information.
Computer Labs
Computer labs will be opened for the Fall 2020 semester in accordance with guidelines in New Jersey Administrative Order 2020-17, the University's restart plan, and the academic calendar. Users will be required to wear a mask, maintain social distance as well as follow sanitation and infection control practices posted in the labs. Additional consideration for high-risk individuals use will be addressed prior to the start of the semester. The computers in the labs will allow the use of all University licensed software and will have printing capability.
Library
The Guggenheim Memorial Library will be open to students and Monmouth University employees but will be operating at a reduced capacity and will follow the same physical distancing limitations as all other buildings on campus. Computer use and study space will be available for students and the campus community following health and safety guidelines.
Reference assistance will be available via chat through the library website. Book request and contactless pickup services will continue to be available to all University affiliates during the fall semester. Please visit the library website or call 732-571-3438 for more information.
Operating hours for the fall semester are as follows: Monday-Thursday, 8 a.m. to midnight; Friday, 8 a.m. to 7p.m.; Saturday, 10 a.m. to 6 p.m.; Sunday, 11 a.m. to midnight.
Study Abroad
Study Abroad programming will be suspended for the fall 2020 semester. For any questions regarding study abroad, contact the Global Education Office at 732-923-4768.
University Store
The bookstore will be open Monday through Friday, from 8 a.m. to 5 p.m., beginning September 7, 2020. Students are welcome to purchase their books in person during those times. Social distancing and face coverings are required. Enter through the OceanFirst Bank Center and exit through the exterior vestibule.
Students may also order books online at mubookstore.monmouth.edu. Books ordered online may be shipped or arrangements may be made for contactless pickup. Please call the store at 732-263-5235 to make those arrangements or with any other questions.
The University's plans and protocols are subject to change in response to evolving guidance from local, state, and federal government and public health officials. We will continue to update this website regularly and encourage you to check back often for the most up-to-date information.