Historic Woodrow Wilson Hall
Formerly known as Shadow Lawn mansion, Wilson Hall was built in 1929 at a cost of $10.5 million as the private residence of former F.W. Woolworth Co. president Hubert Templeton Parson and his wife, Maysie. Philadelphia architect Horace Trumbauer and his assistant Julian Abele, the first African-American professional architect, designed the mansion in the neoclassical French tradition. The construction incorporates limestone quarried in Bedford, Indiana (also used in the Empire State Building), steel, concrete, and 50 varieties of Italian marble. Wilson Hall has been described in newspapers throughout the world, is featured in many books on architecture and art, and has been used as backdrop for innumerable print ads and television commercials. Many visitors also recognize it as the setting for the 1982 film version of Annie.
In 1978, Wilson Hall was entered in the National Register of Historic Places. In 1985, the U.S. Department of the Interior designated it a National Historic Landmark.
There are several spaces within Wilson Hall that are available for meetings and events located on each floor of this historic building.
Wilson Auditorium
Located on the lower level, Wilson Auditorium can accommodate 225 people in theater-style seating. It has a built-in stage, drop-down screen with rear projection, and state-of-the-art sound system.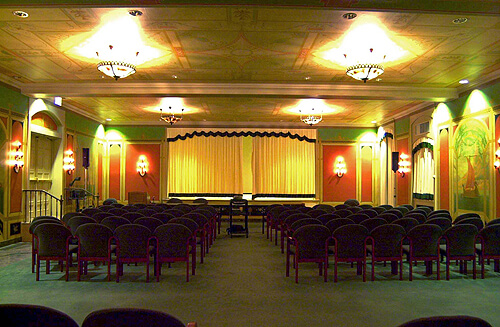 Walt Withey Chapel
Located on the lower level of Wilson Hall, the Walt Withey Chapel was once part of a 16th century Tudor abbey imported from Europe. The chapel is available for small groups, and is a great place for an intimate gathering like a poetry reading. The Chapel is also available to members of the Monmouth University alumni community for small wedding ceremonies.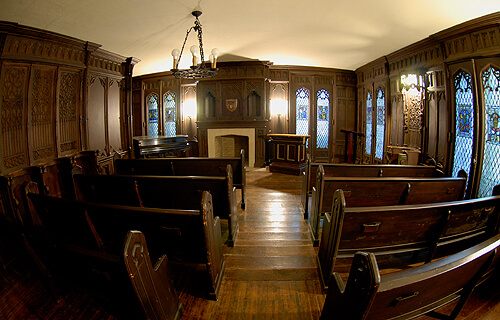 Versailles and Pompeii Rooms
The Versailles Room is located in between the Rotunda and Pompeii Rooms on the first level of Wilson Hall. It is a large room with a built-in fireplace used for banquets, speaker series, and the like. The Versailles Room flows into the Pompeii Room – enter through large beautiful wrought iron doors. The room has an original fountain and large floor-to-ceiling glass doors that overlook the picturesque Erlanger Gardens. The Pompeii Room can be used for reception or pre-event space, as well as overflow from Versailles.
Old Board Room
The Old Board Room is located on the second floor and is a great space for your next executive board meeting or small corporate retreat. The room can accommodate up to 25 guests.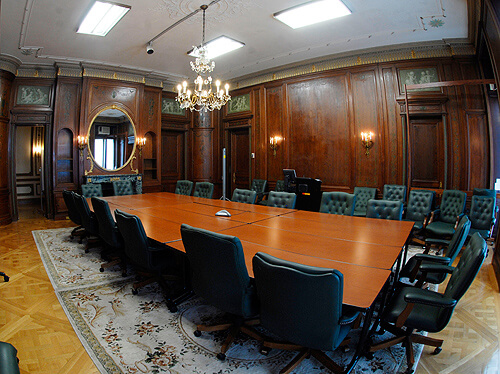 Erlanger Gardens
Erlanger Gardens is home to beautiful and plush landscape that surround this sanctuary. Fountains line the edge of the gardens, along with a large Portico that can be used as an extension of your event in Pompeii.
Additional Classroom and Meeting Space
Wilson Hall is home to additional meeting space on the lower level of the building. The third floor has fully equipped classrooms that can be used as breakout space for your next conference or meeting.