The Samuel Hays Magill Commons Club
The "Club" facility offers a variety of rooms and layouts for your event. There are up to five unique spaces available to accommodate a seminar, large group gathering, elegant seated affair, or an executive meeting. These include our Club Dining Room, Club Lounge, and three Club Seminar Rooms. All rooms are located on the first floor and are in close proximity to our catering operations.
The Club Dining Room can accommodate up to 70 people. The room can be used to host a presentation, speaker series, or an elegant seated affair. It is equipped with a built-in server for food presentations and offers plenty of light through the multitude of windows.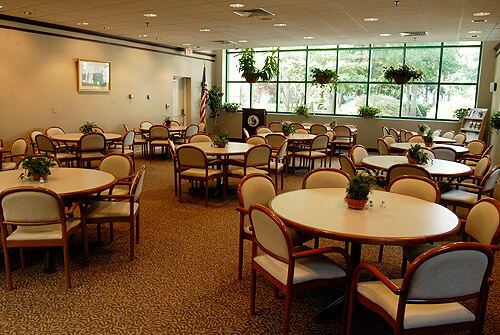 ---
The Club Lounge and Patio is a great place to hold a small reception or even a meeting for a small group. A built-in fireplace adds to the charm of this room along with a service bar. A spacious patio sits immediately outside of the doors to the Lounge and can be used in conjunction with the Lounge for a beautiful and spacious event.
---
The Club also offers three Seminar Rooms that can join into one large meeting space to accommodate up to 100 people. The long conference-style tables make any Club room a wonderful place to hold your meetings. Each room is equipped with built-in screens and white boards.