Directions, Parking, and Seating
The ceremony will be held at the OceanFirst Bank Center on our main campus.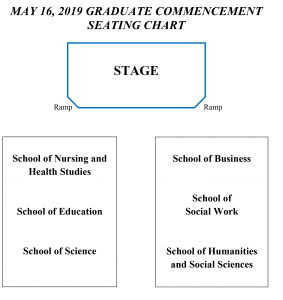 Click Image to Download Seating Chart
Disability Accomodations
Seating
Please call the Office of Student Life at 732-571-3417 to request disability seating. We request that you contact us by Wednesday, May 8, 2019. Requests made after May 8 will only be accommodated on a space available basis. Please note that accommodations are limited in this area.
Parking
Limited ADA parking is available at the OceanFirst Bank Center for those with a disabled parking placard or plate. If this area is full, guests may be dropped off at the entrance to the OceanFirst Bank Center.