On the Road with Jeff Mass
About the Program
Thinking about what lies ahead is exciting, but it can also feel daunting and confusing.
We are here to help.
Whether you have a clear plan for your future or not, we can help you explore your interests, identify your talents, and help you achieve your goals through these type of employer site visits.
Please check out some of our featured visits highlighted on this page.
Jeffrey Mass '04, '17M
In my role as Assistant Director of Career Services, I provide individual career counseling to students/alumni in a high volume office on a variety of issues including: choice of major, career assessment interpretation, resume development, internship/job search techniques, interviewing preparation and graduate school planning. Additionally, I am responsible for providing direction with regard to the management and expansion of experiential education initiatives, including internship development.
I joined the Career Services Department as a Career Counselor in 2010. Prior to Monmouth University, I was employed at Telcordia Technologies (formerly Bell Labs), as a Technical Recruiter providing full-life cycle recruiting. I also worked as a Corporate Recruiter at Snelling Staffing Services in NYC for five years.
Asbury Ocean Club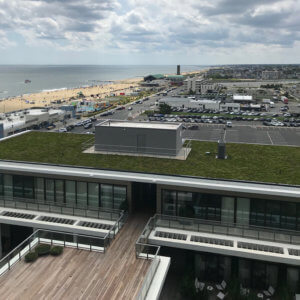 With over 30 years of experience in marketing and collective sales of $40 billion, Corcoran Sunshine Marketing Group is the recognized industry leader in the planning, design, marketing, and sale of luxury residential development. Representing properties throughout the United States and in select international locations, Corcoran Sunshine Marketing Group's portfolio contains a curated collection of the world's most desirable new addresses including the Asbury Ocean Club.
Alexis Smith '20, was able to give us a full tour of the property and shared some insight regarding her current position as a Project Coordinator. The 17-story multi-million dollar high-rise project consisted of 130 luxury condos and a 54-room boutique hotel with retail space including high end stores and a restaurant. Alexis's role includes assisting the sales team for The Asbury Ocean Club project, in all aspects of their day-to-day interaction with clients including scheduling appointments as directed, and maintaining inventory of site administration forms.
Student Outcome: Read how Bruce Wilson '19 landed his 'dream job' after completing an internship with The Asbury Ocean Club through the help of Career Services.
Yorktel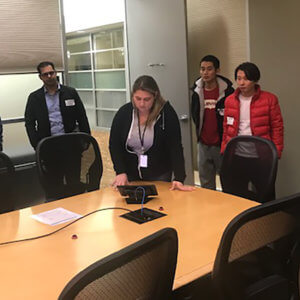 Yorktel is a leading provider of video-centric collaborative services and solutions that enhance workforce productivity in the Commercial Enterprise and Public Sectors. The company offers video managed services, public/private/hybrid cloud hosting, professional consultation, video concierge services, streaming services, B2B Exchange and interoperability services, event management, webcasting and video production.
Monmouth University is a great pipeline of local talent and Yorktel provides a fantastic local employer option to our graduates. The program included a full tour of the facility and networking with current Monmouth University alumni.
Student Testimonials:
"Yorktel was great – Lauren remembered me from our November Career Fair so that was great, and I was able to speak with them about Caregility. I'm definitely not able to apply this year, but they said they were fine with me applying in two years for a real interview and were really proud that as a freshman I was already thinking about them. Lauren told me to friend her when I make a LinkedIn! Thank you for setting it up – it was a great opportunity and I'm really happy I came!" – Kiki Kanik, FY Student / Undecided
"Thank you very much! You really have been trying to help us students a lot, and I truly appreciate that. Yorktel is a great company by the way. I hope I can give back for all that you help us with after I graduate." – Thiago Almeida, MS – Software Engineering / Veteran