During the academic year, Career Services hosts four career days:
the Career Services Internship Fair in October;
the Fall Career Day in November;
the Educators' Career Day in March;
and the Spring Career Day in April.
The Fall Career Day and Spring Career Day attract many local and regional employers to campus. These "job fair" style events provide an excellent opportunity for employers and potential employees to connect. Career Days typically attract hundreds of Monmouth students and alumni, as well as dozens of business, government, and non-profit employers.
The Career Services Internship Fair attracts employers specifically interested in speaking with ALL majors.
In March, the Educators' Career Day brings many New Jersey school districts to campus to meet with future teachers.
What are some advantages of attending a Career Day?
Opportunity for direct contact with many potential employers.
Talk with dozens of employers in a few hours.
Relaxed, informal setting.
Some recruiters are University alumni.
Tips for negotiating a job fair: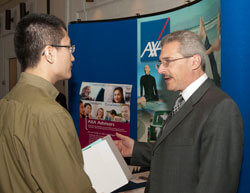 Prepare to ask questions about specific opportunities of interest.
Inquire about referrals to other contacts if a particular recruiter does not have a position for you.
Talk to as many contacts as possible.
Collect information.
Keep a positive, competitive attitude.
Dress professionally. First impressions are important!
Bring plenty of copies of your resume.
Students and Alumni:
There is no pre-registration or fee to attend these programs.
Employers:
DIVERSANT, LLC
Red Bank, NJ
"We at DIVERSANT, LLC have hired quite a few Monmouth University students and are looking for more to come our way. Each Monmouth student who has interviewed here has been extremely professional and excited about finding a career."
—Melissa Riccio
Corporate Recruiter