A Message to the Graduating Class of 2021
From Liz Wessel, CEO of WayUp, a platform built to help students find jobs during and after college.
Insider Tips from a Recruiter: How to Stand Out
Erika Ortiz '12
From getting noticed on the job application to acing the interview, the hiring process can be daunting for many, especially in a virtual landscape. If you are wondering what you can do to stand out and really grab the attention of hiring managers, watch this webinar to get the inside scoop from a recruiter on how to land your next position.
In this webinar, Erika Ortiz '12, HR Lead, Talent Acquisition Diversity Engagement & Delivery, Johnson & Johnson, shared her advice on tips for effective job searching techniques, strategies for preparing for the interview, and putting your best foot forward.
The Cover Letter: Get the "Write Stuff" for Professional Branding
This Cover Letter workshop featured alumnus, Mike Farragher '88. Learn how to unlock the power of a persuasive cover letter as part of your professional branding strategy that will make the robot eyes take notice!
How to Apply to State and Local Jobs
The New Jersey Civil Service Commission (CSC) partnered with Career Development in order to schedule a virtual information session with Monmouth University students and alumni. This webinar included an overview on how to apply for state and local jobs from Joseph Forte, Human Resource Consultant – State of New Jersey.
How to Prepare For a Virtual Interview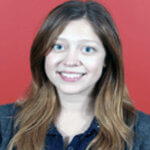 Many interviews are now held virtually, and the process can feel overwhelming. In this webinar, Sara Palughi '12 shares what to expect during the interview while offering advice on how to test the technology beforehand, prepare questions for the interviewer, and follow up after the interview.
A Guide to MU Career Development: Transfer Orientation Presentation 2020

This video presentation with Power Point, gives a brief overview of the functions of Career Development, geared toward the incoming transfer student. Narrated by William Hill, Assistant Dean, Career Development.
Select a Download
LinkedIn 101
LinkedIn is a professional social network and job search tool that has grown to over 200 million members since 2003. It can be an effective instrument in building your professional network. This workshop will cover the following topics: profile setup, creating your network, introductions, recommendations, people search, and job postings.
Select a Download
Video Interviewing
An increasing number of employers are moving from in-person to video interviewing when assessing candidates, especially during the COVID -19 crisis. In this video you will learn about the unique ways to prepare for a remote interview using your laptop.
Select a Download
Resume Tips
A great resume will help you land a great job interview! Learn about the main components of an effective resume and how to create them. Presented by Nancy Gallo, Job Placement Coordinator for Career Development.
Select a Download
Internships Could Lead You To Your Dream Job, Here's How To Land One

Presented by Liz Wessel, Co-Founder & CEO of WayUp, a venture-backed startup based in NYC that transforms how employers recruit students and recent graduates
Stream the recorded video on Zoom! (Use this Password: 1g%sH9*A)