Intern of the Month
October 2020
Sabrina Gutierrez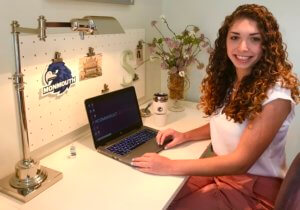 Majors: Master of Business Administration, BS in Business Administration with concentrations in Economics and Finance
Anticipated Graduation Date: May 2021
Internship Title: Logistics Intern
Employer Name: Commvault
Employer Location: Tinton Falls, NJ
Internship Dates: May 18, 2020 – May 22, 2021
Describe your role or a typical day.

As a logistics intern, a typical day would involve meeting with my team first thing in the morning to review the status of all new and open orders. We each get assigned orders to work on and I would spend most of the day coordinating with factories around the world, the warehouse, distributors, and customers to manage international deliveries while maintaining the data integrity of all hardware appliance orders.
How did you hear about or obtain this role?

I heard about this role from working with William Hill at Career Development. He guided me through the entire process by helping me with my resume, cover letter, and practicing interview questions.
What were your major responsibilities at the internship?

I am responsible for managing and coordinating delivery for all US orders while advising our customers, partners, and internal teams with delivery and tracking information. I also communicate with our manufacturer to determine inventory in factories and solve delivery issues. I have contributed to my team by executing the end of quarter appliance shipping initiative by gathering delivery information from over 100 international customers with forecasted orders to improve lead times and ensure financial requirements are met for the end of each quarter.
What interested you about it?

Commvault is known for their fantastic internship program that gives students the opportunity to gain exposure to the corporate world, learn new skills, and "unlock" their potential. I was interested in this internship because it gave me the opportunity to further my knowledge in supply chain management and logistics while working cross-functionally with people from sales, finance, and external partners. Commvault also has a great company culture that encourages employees to be creative, have fun, connect with each other on a personal level.
What did you learn through your experience? How can you relate this to your future career goals?

Throughout my internship, I have learned how to communicate with people from around the world, analyze large amounts of data to draw meaningful conclusions, maintain data integrity in our database, and present high-level executive summaries. The organizational, time management, and communication skills I've learned in this role are essential to any career.
What advice would you give to other students about the internship experience?

I would recommend that every student should obtain an internship throughout their college career. It is a great way to gain experience in your field, learn new skills, make connections, and opens a window of opportunity for starting your career after graduation. If you have an internship, always remember to ask questions, keep good notes, ask for more responsibilities, and have fun!