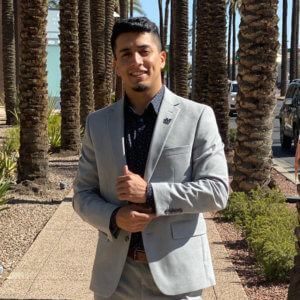 Major: Computer Science
Anticipated Graduation Date: May 2022
Internship Title: Software Engineer Intern
Employer Name: Visa
Employer Location: Palo Alto, CA
Internship Dates: May 26 – July 17, 2020
Describe your role or a typical day.

My day started with a daily stand up meeting. Where engineers go over what they did the day before, and what they plan on doing the day of. The rest of the day I would work on tasks I had been assigned by my team. In addition, I had bi-weekly meetings with my manager and my mentor.

How did you hear about or obtain this role?

I obtained this role through LinkedIn. I was looking for a summer internship and came across this position at Visa. Once I applied, I was asked to do a technical interview from home, and then two interviews in person. Before my interview, I reached out to Jeff Mass from Career Development. He provided some great resources on interviewing. On top of that, he helped edit my resume which the interviewers were highly impressed with. Small piece of advice: stop by Career Development as much as you can. The more they know you and your goals, the more they can help you. I had expressed interest to Jeff about finding a software engineering internship. Now when he comes across something that he thinks would benefit me, he always shares it with me.

What were your major responsibilities at the internship?

The project my team was assigned was to help Visa cardholders through the Covid-19 pandemic. We decided to make an e-gifting website (VisaTouch) to bring families/friends together during these difficult times. My responsibilities consisted of developing the backend infrastructure for the website and managing the database. For example, when a user makes a payment. How do we transfer funds from one account to another in real-time.

What interested you about it?

Seeing how websites work behind the scenes was very interesting. Users usually only see the website but don't know the work that goes behind it. Building a website from scratch thought me a lot about the entire process of web development.

What did you learn through your experience? How can you relate this to your future career goals?

As a software engineer, you are faced with a new challenge every day. You are committed to being a life-long student, because the tech industry is advancing and changing so rapidly. It is important for one to know how to work with latest technologies. In my future career, I will make sure to stay up to date with industry specific knowledge that is needed for me to excel further in my field.

What advice would you give to other students about the internship experience?

For new college students, get an internship as soon as possible, do not wait until junior/senior year. Visit Career Development, get your resume and Linkedin made.
Don't be discouraged if you get rejected, all it takes is one acceptance.
Find a mentor within your field, seek advice from them every step of the way.
Expand your network, referrals are the easiest way of landing interviews with companies.
For Software Engineering/Comp. Science students, know you data structures and algorithms. Use Leetcode.com to practice interview questions.